Murphy's Law; everything that can go wrong will go wrong. It would seem that it has been proven once again! Not only was our direct flight to Cuenca delayed and then 3 hours later canceled for who knows what, but we also had to take the night time flight and drive for 3 more hours to arrive at our apartment at 11:32 pm. The only fortunate thing that happened out of that ordeal was that I slept like a lump in my king bed.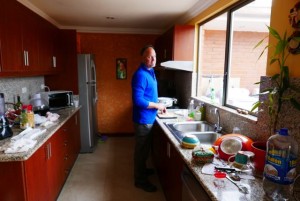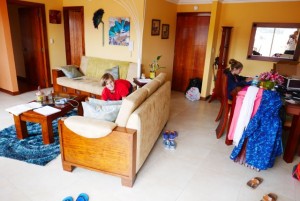 La Loi Murphy dit que tout ce qui peut aller de travers ira de travers! Eh bien! Ca nous est arrivé. Nous avons embarqué pour notre vol pour Cuenca puis après 15 min à attendre dans l'avion voilà qu'ils annoncent que l'on doit débarquer, nous sortons tous de l'avion et nous attendons gentillement dans la salle d'attente qu'ils annoncent notre prochain départ. 3 h plus tard, ils nous font changer de porte puis 10 min plus tard annoncent carrément l'annulation de notre vol. Nous avons dû prendre un vol jusqu'à la ville de Guayaquil puis un taxi et 4 H de route plus tard nous étions enfin arrivés à notre destination Cuenca! Il était 23h32. Le seul point positif, mais il y en a eu un, est le fait que j'ai super bien dormi dans mon grand lit!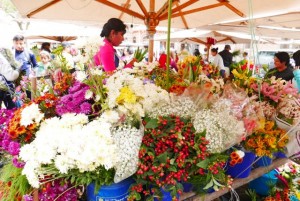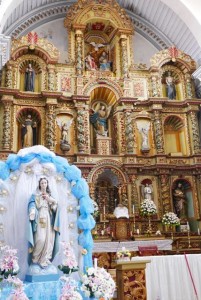 We had brunch the next morning with Tim and Suzette, some of my dad's friends from his restaurant. Both they and their friends were really kind. We went all around the historic city center, visiting markets, churches, museums (where we saw shrunken heads), and boutique food shops and restaurants. One of them, El Mercado (the market) was particularly beautiful; it had hanging plants on the railings and a really good vegetarian sandwich. (If the question if I'm a vegetarian is running through your mind right now, forget about it! I love meat too much to part with it <3). We also went sifting for gold in the river that day as well. I spent an hour sifting in vain!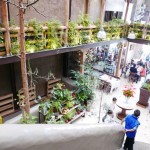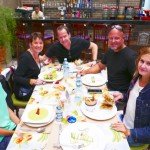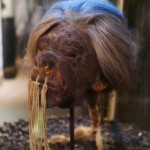 Le lendemain matin, nous avons rencontré les amis de mes parents Tim et Suzette, qui sont venus habités ici, pour un brunch. Ils sont super gentils. Puis ils nous ont fait faire le tour du centre historique de la ville, marchés, églises(il y en a 52!) et musées (notamment celui avec les têtes toutes petites des tribus Jivaro d'Amazonie), petites épiceries spécialisées  ou restaurant. Nous avons mangé dans ce petit restaurant appelé El Mercado (le marché), il était très joli avec ses barrières de végétation fait avec des palettes, j'ai pris le sandwich végétarien qui était particulièrement bon. Suzette nous a fait découvrir une de ses passions, la recherche d'or dans la rivière de la ville. Nous avons essayé mais comme il avait plu la rivière été trop grande et nous n'avons rien trouvé. Je dois dire que c'est assez reposant avec le bruit de la rivière et c'est une activité calmante, bon c'est bien mieux quand tu trouves de l'or! Suzette en a déjà trouvé.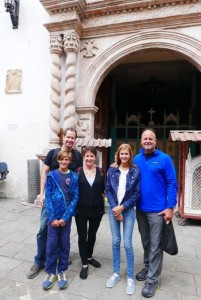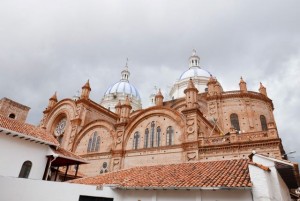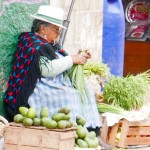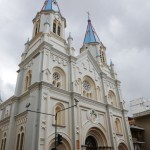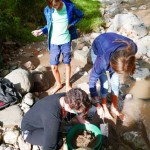 For dinner we ate at this really interesting restaurant with the whole group from brunch: Suzette, Tim, Jolene, John, and Debby. For appetizers we had stuffed chili peppers hanging on a wire tree and tropical fruit juices in flasks. My dad got some shrimp hanging on fish hooks for his main course, and we all shared the brownie, cotton candy tree, and bubble mozzarella cheese for dessert.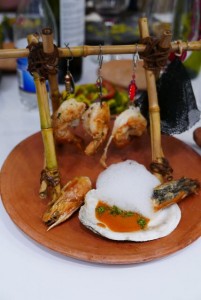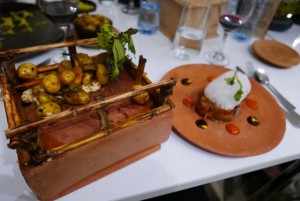 Tim et Suzette accompagnés d'autres amis américains, John et Debbie et Jolene nous ont fait découvrir un de leur restaurant préféré Anima. La présentation des plats était complètement loufoque, je n'avais jamais vu ça. Par example mon père avait pris des crevettes elles sont arrivées accrochées à des hameçons. Pour dessert ils ont réussi à faire une bulle avec du fromage. Regardez et admirez les photos.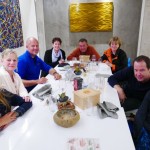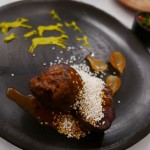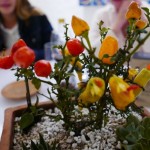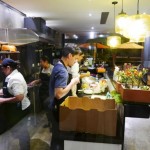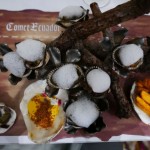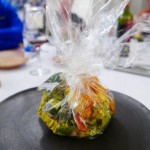 The following day my dad made dinner at Debby's and John's house. The dinner was pretty amazing, I helped make it, so how could it not be ;). My dad made his famous champagne risotto with the carbonated champagne fountain. Delicioso!
Le jour suivant, mon père a fait un superbe repas dans la maison de John. Nous avons eu du risotto au champagne, des truites locales etc. Jayden et moi étions ses commis. Un autre superbe repas. La maison de John et Debbie était spectaculaire.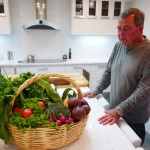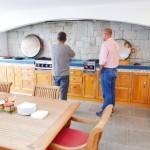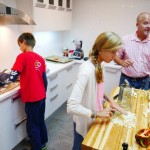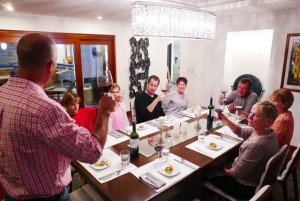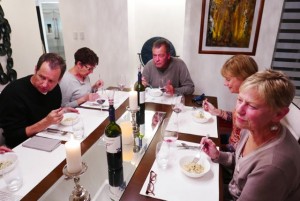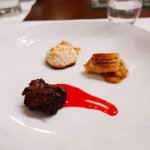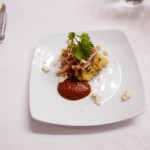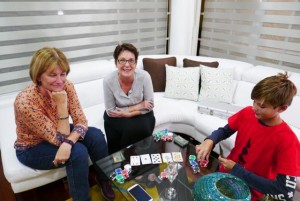 Cuenca is surrounded by many small artisanal villages specialized in arts like weaving, silver, guitars, shoes, and Panama Hats. Their weaving style was similar to the ikats the people wove in Bali. The similarity between them was uncanny, even the big wooden looms that they used were almost identical. The weave has the same cotton base, the tribal design, the vivid (but natural colors made from ingredients found in nature), and the old thatched roof houses that smell like must. Nearby the weaver's village, there was an orchid nursery. They had over 2,400 different species native to Ecuador alone. I learned that orchids grow very, very slowly, it could be up to 8 years until they bloom for the first time. I didn't know that orchids could be so diverse until I went there, but I won't bore you with such inconsequential things, because then you'd stop reading my blog, and since I spent a few hours writing it, it would be a waste of time on my part. Ironically, Panama hats are not from Panama, they're actually from here, Cuenca. I saw women weaving them on benches beside the street. A mediocre hat takes about 2 days to weave, and the best quality takes around 8 days. My mom got one custom made at a factory. They let her choose the shape and size from the pre-made ones, and then they put it in some sort of press which hardened the straw and gave it its shape. Next they sewed the ribbon on the external rim with black antique sewing machines.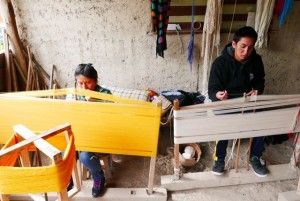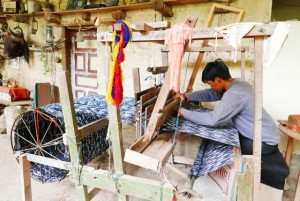 La ville de Cuenca est entourée de petits villages qui ont tous une spécialité: bijouterie, tissage, fabrication de guitares, chaussures et chapeau de Panama. Pour le tissage, nous avons été super surpris de retrouver plus ou moins les même techniques qu'au Laos, c'est à dire Ikat et teinture des fibres avec des plantes ou fleurs. Puis nous avons voté une pépinière d'orchidée. Il y a plus de 2400 différentes espèces seulement en Equateur. Nous avions une guide française Camille et j'ai beaucoup appris sur ces plantes. Elles grandissent très très lentement il faut en général plusieurs années avant de pouvoir avoir une plante et la vendre (parfois jusqu'à 8 ans!). Elles peuvent être très très différentes certaines sont géantes d'autres miniatures, je ne vais pas tout vous décrire car vous allez vous ennuyer vite et ne serez plus intéressé par mon blog. Ironiquement les chapeaux de Panama ne sont pas fait à Panama mais viennent d'ici. Dans le village de Sisig, les femmes marchaient et tissaient de petits filaments blancs. Il leur faut 2 jours pour fabriquer un chapeau de premiere qualité mais 8 jours pour un de meilleure qualité. La qualité se voit au tressage plus c'est serré plus c'est cher. Ma mère en a acheté un là bas, qui a été fait sur mesure, elle a choisi la forme, puis la femme l'a mis dans une espèce de presse pour lui donner sa forme, et enfin elle a cousu les 2 rubans. Elle n'avait que des machines assez rustiques, mais le résultat est plutôt pas mal.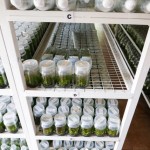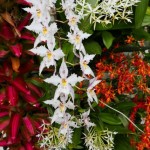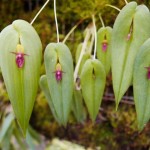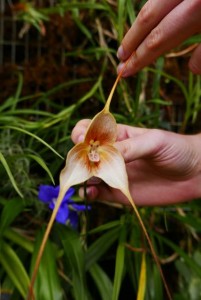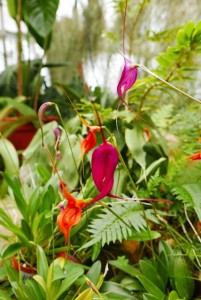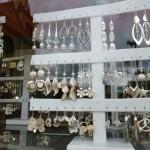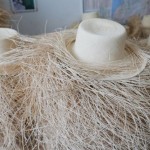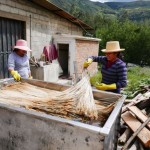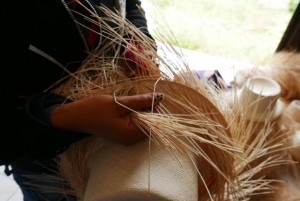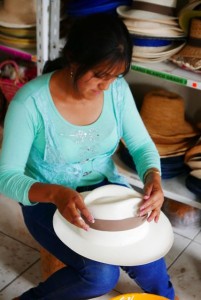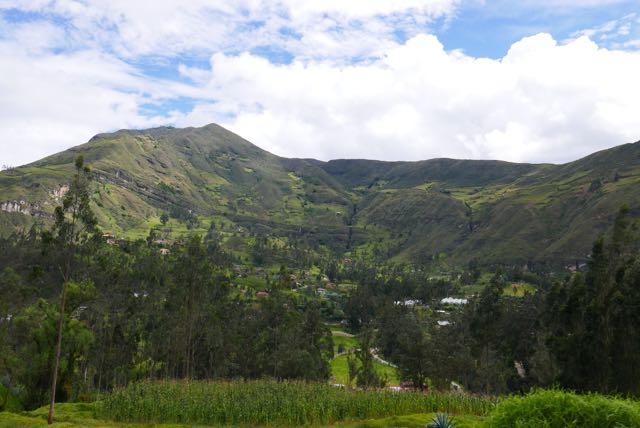 I've been to 4 thermal baths around the world now. The Blue Lagoon in Iceland rivals no other hot spring in the world (those are just my thoughts). These in Cuenca are very nice as well. First I was taken into a sauna for 15 minutes, afterwards I took an exfoliating red and blue mud bath. My skin didn't feel smooth until I got into the subterranean cave with more hot pools. To get my blood circulating, I had to spend 5 minutes in the hot pool, and 1 minute in the ice water pool. I could only manage 5 second in the cold pool before pins and needles started attacking my feet and hands. Luckily cappuccino and cheesecake were complimentary with our package, so I didn't go hungry. My final treatment was a box steam bath, where I would sit inside and the lid would close on top, leaving only my head protruding. It resembled a guillotine, except that you were upright. By the end of the treatment, I felt very clean and refreshed.
J'ai eu l'occasion de faire 4 stations thermales dans le monde. Le lagon bleu en Islande n'a aucun rival je dois dire. Mais celui de Cuenca en fait Baños n'était pas mal non plus. Abord dans le sauna pour 15 min, puis un bain de boue rouge pour exfolier, puis un bain de boue bleue pour hydrater. Ma peau a commencé à être douce quand je suis arrivée dans le jacuzzi souterrain. Là il y avait 2 piscines une chaude (5min)et une très froide pour faire circuler le sang (1min)! Je ne pouvais pas rester plus de quelques secondes dans la froide, car après ça faisait comme si des milliers d'aiguilles piquer mes pieds. Heureusement un capuccino et un chasse cake m'ont aidé. Dernier traitement: une boite en bois archaïque où juste la tête sortait et de la vapeur remplie le caisson. J'ai trouvé que ça ressemblait à une guillotine. Ma peau était toute douce et rafraichie.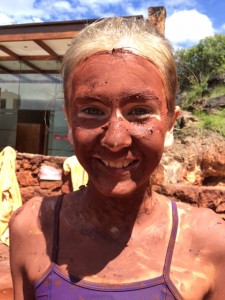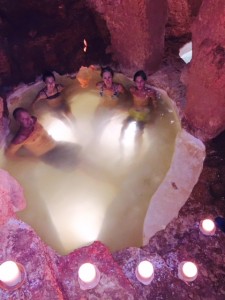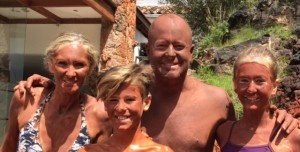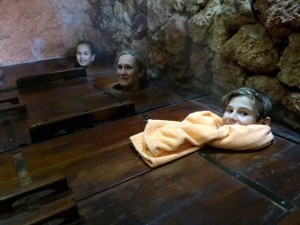 Cuenca didn't have the best weather, it rained at least 2 hours every day, and gray clouds impend over the city for the rest of the day. Cuenca's city center isn't as nice as El Centro Historico in Quito either. But it did have some really nice markets and restaurants and the best traffic was ok.
Il n'a pas fait pas très beau à Cuenca, en fait il fait soleil puis il pleut c'est comme ça tous les jours. Le centre ville n'est pas aussi beau que le centre histoire de Quito, mais il y a une très bonne ambiance, presque pas de traffic et à taille beaucoup plus humaine.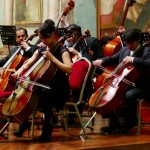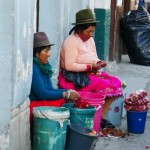 Next Stop: Galapagos. Prochain arrêt les Galapagos!