The 7 hour bus ride came to a halt in a small town called Lago Agrio. We got onto a long narrow canoe called a Pirogue. I was starting to think that we were never going to make it to the lodge because we had a very long bus ride and then the canoe ride was never ending.

Je pensais que nous en avions fini avec les 7h de bus de nuit quand nous sommes arrivés dans la ville de Lago Agrio. Mais après  2 nouvelles heures de bus qui nous a amené au bord de la rivière un voyage en pirogue nous attendait. Je commençais à me demander si nous allions y arriver un jour à ce campement.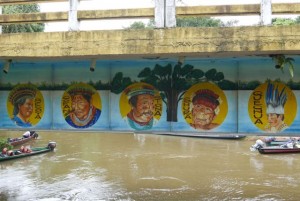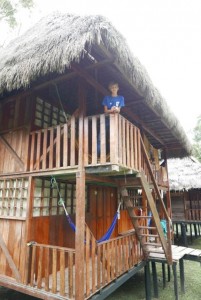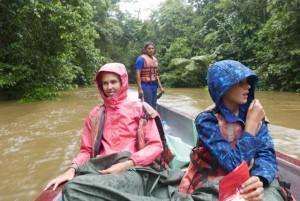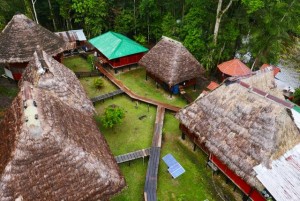 I was expecting to see a lot more animals but I guess we see what we can in the forest. The guides were incredible at spotting things. Ours spotted a small white Amazon tree boa, in the dark, and the boat was moving superfast. He saw a camouflaged poison dart frog and they are so tiny about 1inch big.
Je pensais que nous verrions plus d'animaux, mais en fait quand tu es dans la nature tu ne peux pas prédire ce que tu vas voir. Je dois dire que notre guide était quand même très bon pour repérer les animaux, une fois de nuit il a vu un boa constricteur dans un arbre quand nous nous promenions en pirogue. Il est arrivé à voir une de ses toutes petites grenouilles empoisonnées qui ne font que quelques centimètres.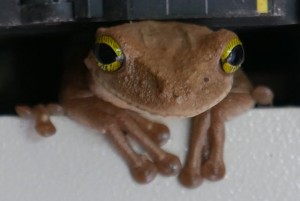 On one trek we went on, it was incredibly rainy . We walked in the rain for hours and it became super muddy. There was an area called palm swamps and the mud nearly overflowed in my boots. I took a serious mud bath first my boot came completely off and my foot got drenched in mud I would have had to walk without a boot if a really nice Swiss person hadn't pulled my boot out. After that I completely fell hands first in the deep mud, I was truly covered. But in the end I took a really nice swim in the Amazon River. Another day we saw the pink erawati river dolphins. They were more grey than pink and you only saw their fins and a part of their head. I was hoping to see an anaconda but those are a lot more active in the dry season. A bird that we saw a lot was the stinky turkey, they looked like fat phoenixes. When we were on a tour we spotted a snake bird, it was like a heron. It was just posing in so many ways, it was like it meant to put on a show.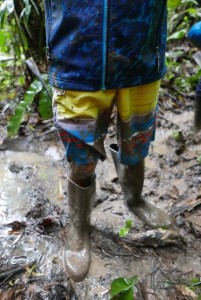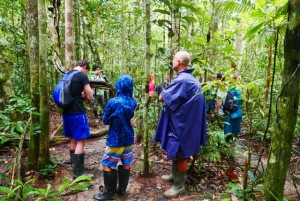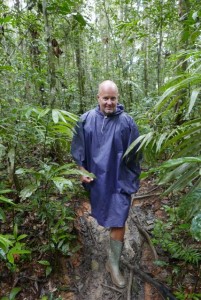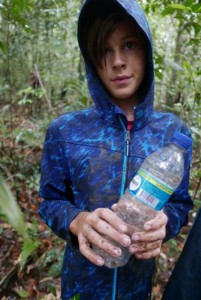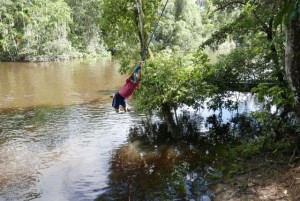 Tous les jours nous partions soit en pirogue soit en balade dans la forêt à la découverte de ce monde. Une fois, il a plus toute la balade, heureusement ils nous prêtent des bottes et des ponchos, mais mes bottes étaient trop grandes! Avec la pluie c'était très boueux et à un moment donné nous sommes arrivés à un endroit appelé les palmiers marécageux. Mes bottes sont restées coincées dans la boue et je me suis retrouvé les pieds avec mes chaussettes à patauger dans la glaise! Un jeune Suisse du groupe m'a aidé à sortir mes bottes que j'ai remis comme ça. Je suis aussi tombé les mains dedans, j'étais très sale et tout mouillé. Quand nous sommes rentrés pour le déjeuner je me suis baigné dans la rivière. Tous les soirs nous partions en croisière pour voir le coucher du soleil sur une portion qui formait comme un lac et nous nous baignions avec les dauphins roses ou Botos. En fait, ils sont plutôt gris et ils ne sortent pas beaucoup de l'eau alors ils sont assez difficile à apercevoir. Je voulais vraiment voir un anaconda, mais il faut venir à la saison sèche où ils sont bien plus actifs. Un des oiseaux qu'on voyait tout le temps était hoazin huppé (dindon qui pue c'est son surnom!) ils ressemblaient à des phoenix avec leurs ailes ouvertes. L'oiseau serpent était très beau aussi avec le bout de ses ailes blanches et son corps noir, il nous a fait une vrai démonstration  en se tournant dans tous les sens et en ouvrant ses ailes.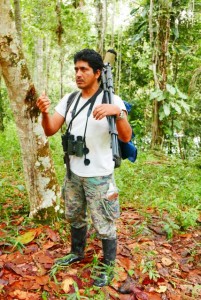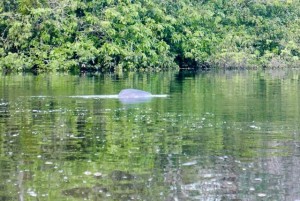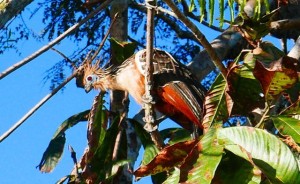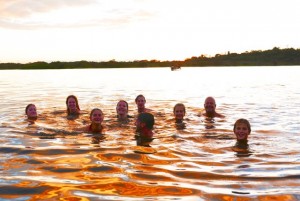 Surprisingly I slept really well every night considering that the beds were basic. One day my mom woke up at 6:00 A.M to go bird watching and she said that she saw a lot of yellow macaws and toucans. Our guide said that we were lucky in see the animals that we saw because a lot of times there aren't that much. We saw 3 sloths and both of the kinds, the 2 toed sloth and the 3 toed sloth. We saw 6 of 7 species of monkeys. We saw the red howler monkeys, squirrel monkeys, little night monkey in their house, monk sacky monkey, white capuchins, and the woolly monkey. One night we went on the jungle walk where we saw scorpions, 3 giant tarantulas, a lobster cricket that was as big as my hand, and a night monkey that was active. After we went looking for caimans, we saw 2. One was a spectacle caiman that disappeared before we could take a picture, but the other was a black caiman and we just go a picture of him.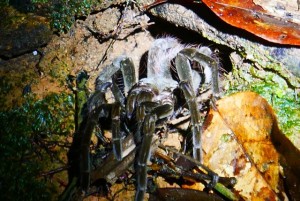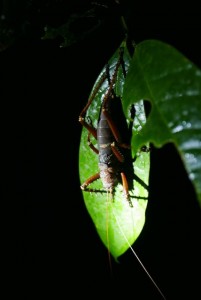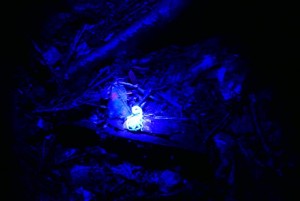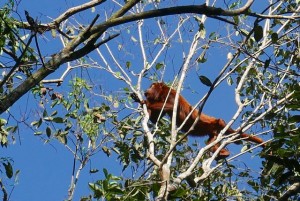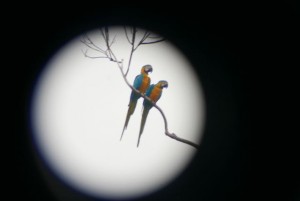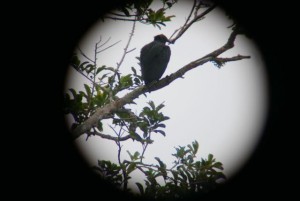 Je dormais super bien malgré que les lits soient assez simples. Ma mère s'est levé à 6h00 du mat pour observer les oiseaux depuis la tour d'observation, elle a vu des toucans et un couple d'aras bleus et jaune, un faucon et aussi un vautour. Notre guide nous a dit que nous avions en fait pu observer beaucoup d'animaux différents: nous avons vu 3 paresseux (2 griffes et 3 griffes), 6 des 7 espèces de singes : les Saïmiris (ou singe écureuils assez petits et gris), singe hurleur roux, les tous petits singes de nuits avec leurs gros yeux, singe laineux (grosse queue avec fourrure), capucins blancs, des tamarins. Pendant notre marche nocturne, nous avons pu observer des scorpions, un criquet langouste énorme et 3 tarentules géantes, mais aussi un singe de nuit actif dans les branches. Un autre soir, nous avons fait une balade en pirogue pour voir les caïmans, nous en avons vu 2, l'un deux à tout de suite disparu sous l'eau (et il peut y rester pendant 1h avant de ressortir) l'autre était un caïman noir.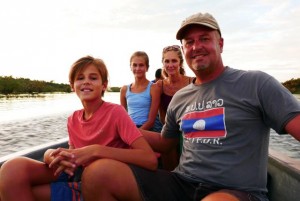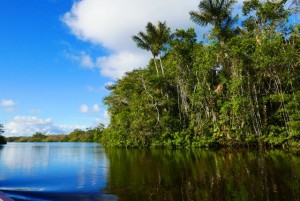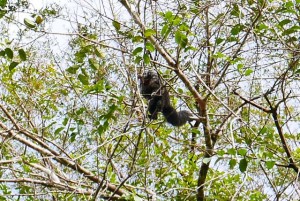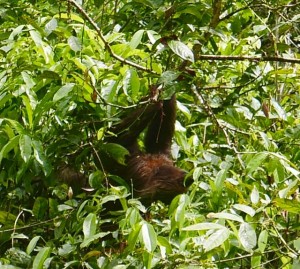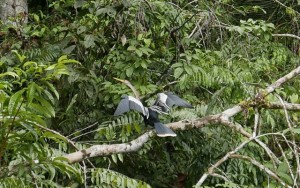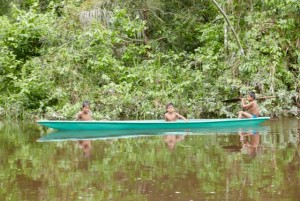 We visited an Amazonian community. We learned how to make a kind of bread from manioc. It was like pita bread but the texture was like a bunch of bread crumbs made into a bread. After lunch we visited the Shaman. He was decorated with a headdress made from the feathers of exotic birds, necklaces made of animal teeth, nuts, and seeds. The law was that the shaman had to make everything himself. He said that to become a shaman you had to train for 15 years, those that trained for less were more like sorcerers than shamans. They were given a special drink called ayawasca. That put you in a kind of spiritual world. I learned how to fire a blow gun, and in 3 tries I hit the target. Melia's dart landed 1 meter in front of it. Our guide showed us what a cocoa bean looks like before they get dried, they were encased in a white fruit that tasted exactly like mango.  It was nice to meet a lot of interesting people and see everything that we saw. After getting back to Quito for one more day we left for Lima Peru.
Nous avons aussi visité un village amazonien, ils ne vivent plus complètement reclus les seins nus etc. Ils veulent éduquer leurs enfants pour qu'ils préservent leur futur. Une des femmes du village nous a appris à faire une galette au manioc. Nous avons récolté le manioc dans le jardin, puis il a fallu le peler et ensuite le râper et l'essorer dans un panier pour le transformer en farine. J'ai bien aimé. Après le lunch, nous avons rendu visite au shaman (sorcier, médecin guérisseur du village). Il doit faire lui même sa tenue et sa coiffe avec des choses qu'il trouve dans la forêt: des noix, des haricots secs, des dents d'animaux, des plumes d'oiseaux. Il nous a expliqué qu'il faut 15 ans d'étude pour devenir shaman, et que ceux qui s'arrêtent au bout de 5 ans ne sont que des charlatans. Ils boivent une boisson hallucinogène appelée  ayahusca (breuvage à base de lianes) ils s'en servent pour lire les auras de la personne à soigner. Il nous a fait souffler dans sa sarbacane, il m'a fallu 3 essais pour atteindre ma cible. Mélia n'a pas été trop bonne à ça. Notre guide nous a aussi montré tous les fruits que l'on peut trouver dans cette forêt comme le cacao (avant qu'il ne devienne notre boisson) ça avait plus le goût de la mangue.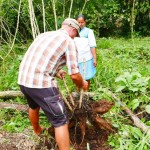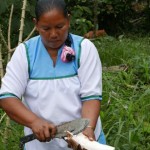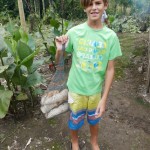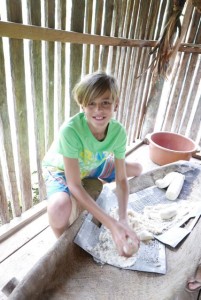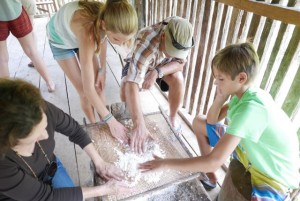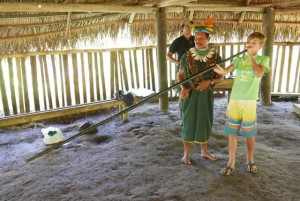 J'ai bien aimé ma rencontre avec plein de jeunes de tous les pays avec qui j'ai joué à Jenga. Puis il a fallu rentré sur Quito avant notre départ le lendemain pour le Pérou et Lima.