The first country we visited was France. We have lots of family there. We came to see our grandparents in Soyans, it is a small village in the south east of France. They have a cat named Calypso, when she wants to be she rub against you the falls on her side and waits to be pet. They have a basin that has at least one hundred fishes in it, 5 are giant coi, when they first got them they were 3 inches long now they are 20 inches long.
We saw lots of our cousins. We had lots of fun playing with Alexis and Matis in their grandparent's pool. We played with Ruben and Gabriel one night and another time Baptiste with his 2 sisters came to. With my parents we visited Kenny and Evan in Grenoble, they have a Wii u and I enjoyed playing super smash bros with him. But fun comes at a price I had to study all about the Romans.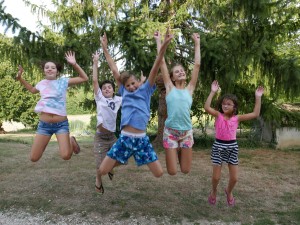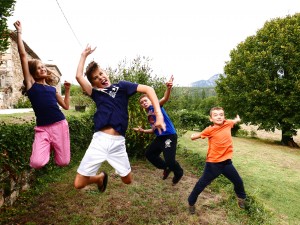 I got a Hex bug from my grandparents that live in Arizona, I had to build it myself for my upcoming birthday.
We went to a medieval festival. I did archery there I have become very good at archery. We saw a parade in the festival it had fire spitters that were very cool to see.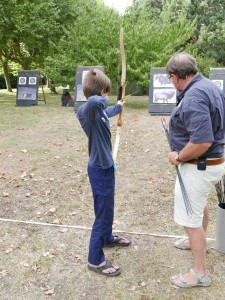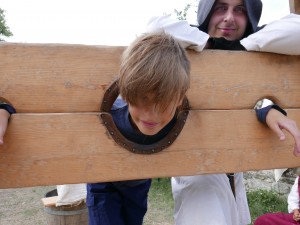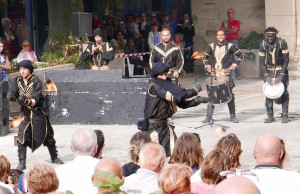 I have a TV show that I like to watch it's called Fort Boyard its where people usually comedians have to do special tasks like having to walk through snakes, scorpions, lizards and find clues, answer riddles, at the end they earn money for a charity. Some teams are good but some were bad.
We also went to Toulon to visit Daniel and Germaine, there I ate truffle (a very rare and expensive mushroom) the taste was strong but I liked it. We took the boat to visit the island of Porquerolles, we swam but did too much walking.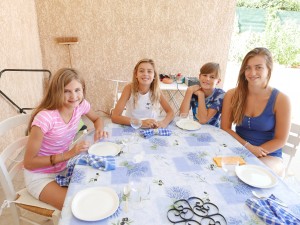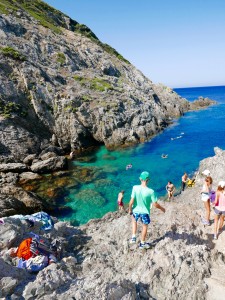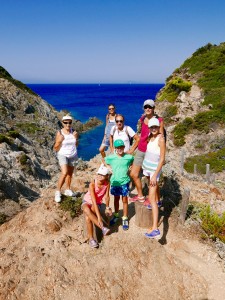 Time in France was really fun. But sadly we had to leave France, for Italy. We got on the train for Milan. I am writing this blog on the train. We waited at Nice train station for more than an hour. There was a fire on the tracks of the Italian station so we had to take a bus and another train. We arrived very late.
We finally arrive in Milan at 3.30 am! The next day we go to the world expo it was amazing every country build a pavilion for the expo. The theme this year was about food, how to preserve the planet and feed everybody. My favorite pavilion was Ecuador it was made by chains that every ring had a different color. Poland was made by small apple wooden boxes. Thailand was also very cool.
There were these chairs that were designed to go in circles in a diagonal direction. There was the super market of the future it was very cool. Everything was projected on a tablet screen. In the future there will be a machine that will print your food. Israel pavilion was covered in grass, Korea was so cool because two arm robots had T.V's and they shared a video and they sometimes came together (ex: a video of one had falling vegetables and the other had a pot that the vegetables fell in). For lunch, we ate in the Vietnamese pavilion and for dinner I had a hot dog with a milk shake to celebrate my birthday. We took the metro back to the hotel. Tomorrow we are going to Venice.
___________________________________________________________
Notre premier stop pour le voyage autour du monde est la France. Nous avons beaucoup de famille ici. Nous restons chez nos grand parents, ils habitent un petit village dans le sud est de la France. ils ont une chatte qui s'appelle Calypso. Quand elle veut se faire caresser elle se laisse tomber par terre et attend que l'on vienne la caresser sur le ventre. Il y a aussi un bassin avec de l'eau de source et dedans on trouve des cois ou carpes japonaises. Ils en ont au moins une centaine, 5 d'entre elles sont très grosses, elles doivent faire 65cm. J'ai passe du bon temps avec tous nos cousins. On s'est bien amuse dans la piscine des grand parents de Matis et Alexis. J'ai aussi joue avec Ruben et Gabriel un soir. Et une autre journée j'ai vu Baptiste et ses 2 soeurs. Avec mes parents, on a rendu visite a Kenny et Evan a Grenoble, ils ont une WiiU et j'ai adore jouer a Super Mario Bros avec eux. Mais tout a une fin, car je dois faire aussi des devoirs, un de mes projets d'école était d'étudier les Romains.
Pour mon anniversaire j'ai eu une Hex bug a construire de mes grand parents d'Arizona. Je l'ai construite moi meme (sorte de robot scarabée).
Nous sommes aller a un festival medieval dans un village voisin, Bordeaux pour le 15 aout. J'ai fait du tir a l'arc, je ne suis pas trop mauvais car j'en ai deja fait. il y a eu un defile avec des cracheurs de feux, c'était plutôt cool.
J'aime bien regarder l'emission de tele Fort Boyard quand je suis chez mes grand parents. Les équipes doivent réussir des tests comme mettre la main dans des pots avec des serpents, des scorpions etc, et ils récoltent de l'argent pour une oeuvre de charité. Parfois les équipes sont bonnes parfois elles sont assez nulles.
On est aussi aller a Toulon rendre visite a Daniel et Germaine des amis de mes parents. La bas j'ai goute des truffes, le gout était très fort mais j'ai aime. On a pris le bateau pour visiter l'ile de Porquerolles, on a nage mais on a aussi fait beaucoup trop de marche.
J'ai passé du bon temps en France. Mais il faut partir pour l'Italie. On a pris un train pour Milan. J'écris mon blog dans le train. On a du attendre a Nice pour plus d'une heure. Il y avait un feu sur la voie ferrée juste avant la gare d'Italie. Ils nous ont fait prendre un bus puis un autre train. Nous sommes arrives très très tard dans la nuit a 3h30 du matin!
Le jour d'après nous sommes allés a l'expo universelle qui se tend a Milan. C'était assez spectaculaire, chaque pays (145 au total) a construit son propre pavillon. Le theme de l'expo était comment preserver la nourriture pour nourrir la planète et faire moins de gaspillage. Le pavillon de l'Equateur était mon préfère, il y avait des chaines colorées qui pendaient depuis le top. La Pologne avaient des caisses en bois sur toute la facade. Celui de la Thaïlande était cool aussi. Pour se reposer il y avait des chaises qui tournaient comme des toupies. On a visite un supermarché du futur, dans lequel on pouvait voir la nourriture imprimée en 3 D. Le pavillon de l'Israel était recouvert de vegetation, celui de la Corée du Sud était très moderne avec des bras robotises qui avaient une télévision au bout et qui bougeaient en racontant une histoire. Pour le déjeuner on a mange au pavillon Vietnamien et pour dinner j'ai choisi un hot dog avec un milk shake pour célébrer mon anniversaire. On a pris le metro pour rentrer a l'appart. Demain nous partons pour Venise.