This is it, the day has arrived for my family and I to start our journey. Not long ago, my parents decided to take my brother and me on a 1 year trip around the world. Our first stop is France. Then we are going to Italy, Greece, Turkey, Thailand, Cambodia, Laos, Indonesia, Australia, Fiji, Ecuador, and Peru. But it is not a long vacation off from school. No on the contrary, my brother and I will be homeschool and we will take courses online. I will have to read a book on each country we will be going to and then write an essay on it. I hope to learn new things about the cultures of these countries that I wouldn't learn in school and try their foods. My personal goal for this trip is to learn at least a little how to speak the languages of the countries we will be going to.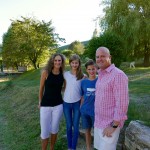 Ca y est le jour de départ pour notre grand voyage est là. Il n'y a pas longtemps, mes parents ont décidé de nous emmener mon frère et moi pour un voyage autour du monde. Notre premier stop est la France. Puis nous irons en Italie, Grèce, Turquie, Thaïlande  Cambodge, Laos, Indonésie, Australie, Fidji, Equateur et enfin Pérou. Ce ne sera pas les grandes vacances, en fait on voyagera et on fera aussi l'école en prenant des cours sur internet. Je dois lire un livre sur chaque pays que je vais visiter et faire un rapport. J'espère apprendre de nouvelles choses sur chaque pays, sur leur culture, leur nourriture et plein d'autres choses que l'école ne m'apprendra pas. Je veux revenir en sachant parler un petit peu le language de tous ses pays.
Every summer, I go back to France to visit my family. My dad is American and my mom is French, I am bilingual and part of 2 cultures. Going back there makes me feel happy to be reunited with them because I only get the chance to see them once a year. It felt like our stay in France this summer went by faster than usual, mostly because we stayed for only one month instead of two, but also because we were having such a good time, even if I lost track of days. My grandparents live in a tiny village called Soyans, which is north of Provence. They own a small farm with a big vegetable garden. It was my job to pick the tomatoes and raspberries. They also have a coi fish pond, and some of them are giants! It was both my brother's and my job to feed them, but since he usually forgot, it ended up being my responsibility alone. I didn't think that my cousins, which I only see 1 or 2 days a year, changed very much, except for my cousin Emma, I thought that she really changed a lot. We had so much fun with them, but not enough time.
Chaque été, je reviens rendre visite à ma famille. Mon père est américain et ma mère française, je suis bilingue et je fais partie de 2 cultures. Je suis heureuse de retrouver tout ce monde. Je ne les vois qu'une fois par an. Cette année notre séjour m'a paru plus court que d'habitude, peut être prie qu'on est resté qu'un mois au lieu des deux de d'habitude. Mais aussi parce que je m'amusais beaucoup. Mes grand parents habitent un tout petit village appelé Soyans au Nord de la Provence. Mon grand père a un grand jardin avec plein de légumes. Mon travail était de cueillir les tomates cerises et les framboises. Dans un grand bassins ont des carpes japonaises et avec mon frère je devais les nourrir. C'était plus souvent moi que lui car il oubliait souvent. Je n'ai pas trouvé mes cousins trop changés (en fait je ne les vois qu'un ou deux fois par an) sauf Emma que je n'avais pas vu depuis 2 ans. Elle a beaucoup grandi. Je me suis bien amusée avec tous même si c'était trop court.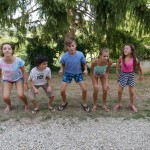 I went hiking on the tallest mountain in the region with my grandfather, my parents, my brother, and my great uncles, it was about 1,500 meters. Though it wasn't an overly difficult hike, the wind near the peak was atrocious! I thought that at any moment, I would be blown of the cliff like a leaf. Since we thought it was going to be hot, we came prepared with tank tops and shorts. I think I have never been so cold in my life and I used to live in Massachusetts! Even though the air was cold on top of the mountain, it was blistering hot at my grandparents' house. I often went swimming with my brother and some friends in my great uncle's swimming pool. The dryness and heat caused the creek not far from where my grandparents live was practically dry. I was disappointed about that because it had become a sort of tradition to go there with my mom, my brother, sometimes my aunt and my half-cousins on an especially hot afternoon. We also didn't get a chance to go to the beach near Nîmes, which is where we usually go with my grandparents and my aunt. But one of my major disappointments was that I didn't get to go to one of my stores, IKEA.
Je suis allée marcher sur la plus haute montagne de la région les 3 becs avec mon grand père, mes parents, frère et deux grand oncles. Ca n'a pas été très difficile, mais il y avait beaucoup de veJnt au sommet! On ne pouvait pas se tenir droit. On a pensé qu'il ne ferait pas froid en haut donc on n'avait pas prévu de gilet , on s'est gelé. heureusement mon grand père m'avait prêté son gilet. Je pense n'avoir jamais eu aussi froid de ma vie et pourtant j'habite au Massachusetts! Quand on est chez mes grand parents il faisait chaud. Je suis souvent allée nager chez des grand oncles qui ont des piscines avec mon frère et des amis. Il y a eu une sècheresse cette année et la rivière vers chez mes grand parents était à sec. C'était une tradition d'y aller chaque année avec ma mère, mon frère et mes cousins les après midi. Nous n'avons pas pu aller en vacance à Bisac près de Nîmes comme chaque année. Et je regrette aussi de ne pas avoir pu aller a Ikea.
Afterward, my parents, my brother and I started our trip by visiting our friends in Toulon, France. Though since we visit them every year, it doesn't feel very different from the previous times. There, I went swimming with their granddaughter who is my age. We ate at a very nice restaurant with them. We had truffles, pigeon, and langoustine in a saffron mousse. It was absolutely delicious. Then we went to the island of Porquerolles. It is an island off the coast of Toulon. It's a popular vacation spot but still relatively wild. I might say, we did a bit of excessive walking that day. But it felt really nice to swim in the cool ocean after a long day of walking.
We had a fantastic stay in France, now it is time to leave. I cannot wait to go to Italy, the food, scenery, I want to be there but I don't want to leave my family behind for possibly 2 more years. Oh well, our trip has to start one day, why not now.
Puis nous sommes descendus sur Hyeres pour rendre visite à des amis, Daniel et Germaine. On y va chaque année, donc pour moi ça fait parti de mes vacances en France. Là bas j'ai nagé avec Ambre leur petite fille qui a mon âge. Ils nous ont emmené au resturant j'ai gouté des truffes, du pigeon et de la mousse aux langoustines. C'était tout très délicieux. Nous avons aussi allé visité l'ile de Porquerolles, très belle ile encore assez sauvage. Nous avons beaucoup marché ce jour là! Ambre était malade la pauvre. Ca m'a fait du bien de nager pour me rafraichir.
Nous avons passé des moments fantastiques en France, maintenant il est temps de partir. Je me languis d'être en Italie, pour la nourriture, les paysages. mais je suis trite de quitter une partie de ma famille pour peut être 2 ans. Je pense qu'il fait qu'on commence notre voyage un jour alors pourquoi pas maintenant .