If you ever want to insult a Frenchman just attack his cuisine. Being a chef and being married to a French women makes me appreciate this all the more. The French defend their culture, language and cuisine fiercely defending centuries long traditions. Each time I return to France I find myself sitting around a table with friends and family starting with an apperatif such as Pastis or Vin de Noix, followed by a couple of nibbles. Afterward moving onto the entre, followed by the plat principal, bread, cheese and finally dessert always with wine present. With each meal these all came to pass. Food is serious and meal are treated with a sense of pageantry and style. French pastry is as much about art as it is about feeding one's self a special treat.
Oddly, I learned to speak French mostly by sitting around the table, eating, drinking and desperately trying to understand the conversation going on around me. My language of food is pretty extensive these days given it is my vocation and the time spent around any number of tables is formidable. To this day my French language skills improve dramatically after a couple of glasses of wine, much to the amusement of my wife and her family. France has become a second home and that says a lot. Most of the last 20 years has been spent working and traveling around the world. To call a place a home to me means a place I want to have roots, a place where I feel I want to come back to, and a place where family resides. Vive la France.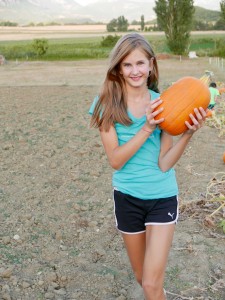 Picking Pumpkins on the Dorier Farm.