We had a very pleasant stay in Venice, and I cannot wait to go back there. When I arrived there for the first time, I was awestruck. It was as beautiful as the pictures on the postcards! The Grand Canal was busy with small boats and gondolas. The buildings on the side were colorful and their windows scalloped. But what surprised me the most was the quietness of the city. I never realized that the lack of cars could make such a big difference. After we boarded the Vaporeto, which is the water taxi of Venice, we went all around the city. Then we were dropped off at the apartment we would be staying at for the next 3 days. It was modern, but with older finishes like the wooden beams running across the ceiling and the old wood floors. We dropped off our luggage and went to have our first real Italian meal. We didn't have to walk very far before finding a little pizzeria. The pizzas we had were tasty, but we had to walk them off. As we sauntered around Venice, I noticed that there were a lot of Venetian glass shops. And tourists. There were many tourists. We went to the Piazza St. Marco, which is the grand place of Venice. It is where the Palace of the Doge is. It was all spectacular. It is amazing what they were able to build such a long time ago, huge monuments with lots of details, carvings and intricate designs. That day, we went all around Venice, on foot. By dinner time, which is when we came back to the apartment, my feet were aching and my sandals had given me blisters. But I think I survived to the next day.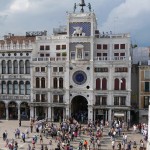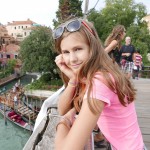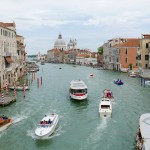 Notre séjour à Venise a été très agréable. Je me languis d'y retourner. Quand nous sommes arrivés, j'ai été totalement ébahie, c'était aussi joli que sur les cartes postales. Le Grand Canal était plein de petits bateaux et de gondoles. Les bâtiments étaient colorés et leurs fenêtres étaient du type médieval. Le plus surprenant était le silence qui régnait dans les rues. Je n'aurais jamais pensé que le manque de voitures ferait une telle différence. Nous avons pris le Vaporeto (bus local sur l'eau!) qui nous a deposé vers notre appartement où nous séjournerons les 3 prochains jours. Il a été refait à neuf avec une cuisine moderne tout en gardant du charme avec des poutres au plafond et du parquet. Après avoir déposé nos valises, nous avons fait notre premier repas italien! Nous n'avons pas eu besoin d'aller très loin pour trouver une bonne pizzéria. Je me suis régalée, le reste de l'après midi nous avons beaucoup marché, et éliminé cette pizza. Il y avait beaucoup de touristes, des tonnes de touristes! En se balançant dans Venise, j'ai remarqué tous les petits magasins qui vendaient de la verrerie, une des spécialités de la ville. Nous sommes arrivés sur la place Saint Marc, elle est gigantesque, et le palais des Doges spectaculaire. C'est impressionnant, ce qu'ils sont arrivés à construire, les détails et la beauté des monuments. Quand on est rentré à l'appart, mes pieds étaient en bouillis! Mais je pense que je survivrais.
The next morning, I was awaken by the incessant ringing of the church bells next to the apartment. They must have rang a good 30 times before finally stopping! That morning we went to the market. There were fruit stands and vegetable stands. Stands that that sold spices and other goods. But the reason we visited the market was for the fish stands. They had all kinds of fish and sea food freshly caught that day. There was octopus and squid in some stands. We walked a lot again and that night, my dad made us pasta with the spices he bought from the market.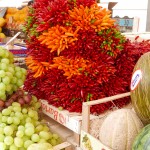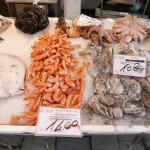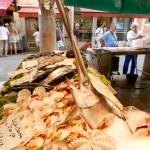 Le lendemain matin, j'ai été réveillée par des cloches! Ca a duré très longtemps! Il y avait une église à coté de l'appart. Elles ont dûs sonner au moins 30 fois avant de finalement s'arrêter. Nous sommes allés faire des courses au marché, il y avait des stands de fruits et légumes, d'autres stands d'épices et puis les poissonniers. Sur les stands, il y avait un grand choix de poissons, de fruits de mer, de pieuvres, de calamars etc. Nous avons encore beaucoup marché mais ma mère dit qu'on découvre le meilleur d'une ville en se perdant. Mon père a fait des pâtes avec des ingrédients du marché.
The next day, we went out for lunch again. But my dad went back to the apartment to rest. So my mom, my brother Jayden and I decided to take a different route to explore more of the city. We went back to the Piazza St. Marco, but we actually went inside the Basilica, the interior was magnificent, maybe the most beautiful I have ever seen. The ceilings were covered in golden mosaics. There were mosaics of people, and, if you looked at them from afar, they looked like actual paintings, but not so much up close. The amount of time it would have taken to put all of those individual mosaic tiles in place would have been centuries, since they were in the billions. The view from the balcony on top was stunning. You could see the entire plaza from there! But the interior was more stunning than the view outside. The domed ceilings, the walls, even the floors had intricate marble patterns. Afterward, while we were walking back, we stumbled upon a church with live music. A woman was singing opera while violins played in the background. It was very beautiful to listen to. And since I inferred that we would walk around the whole city yet again, I decided to where my sneakers to hopefully lessen the pain in my poor, aching feet.
Le jour suivant, mon père est resté à l'appart, l'après midi, nous trois nous sommes allés visiter la Basilique de la place Saint Marc. L'intérieur était très beau, le plafond était recouvert de mosaïque dans les tons dorés. De loin on aurait dit des peintures mais en se rapprochant on voyait les petits carreaux de mosaïques. Je suis fascinée par le temps que cela a dû prendre à compléter. La vue de la place Saint Marc depuis les balcons était phénoménale. Le dôme de la Basilique, ses murs, ses portes et son parterre étaient fait de détails d'une grande beauté.  Sur le chemin du retour, nous avons écouté de la musique classique et une chanteuse d'opéra dans une église, le son était grandiose. Cette fois ci j'avais mis mes baskets pour sauver mes pieds d'une journée de torture.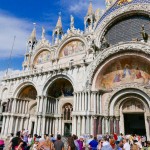 Venice was a beautiful city that I cannot wait to return to. The architecture is beautiful, the city is quiet, and it has a rich history. I wouldn't mind living there when I am older, though those annoying church bells would definitely be a factor taken into consideration. The shops were very nice and I wouldn't have minded buying a few things in them. Moreover, Venice is a fantastic, and special city, and it is one of my favorite cities that I have ever been to.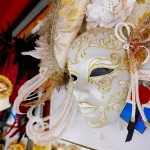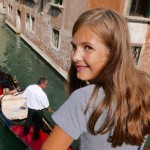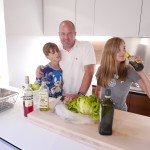 J'ai adoré Venise, j'ai hâte d'y revenir. L'architecture est magnifique, la ville est relativement silencieuse et elle a un riche passé. Il ne me déplairait pas d'y habiter quand je serais plus grande. Je choisirais un quartier qui n'a pas trop d'églises! J'ai beaucoup aimé l'atmosphère qui y régnait. Pour le moment je dirais que c'est ma ville favorite.