We landed super early at 6.00 on Easter, our place was not ready until 2.00pm so we had time to kill, we spent it mostly at a place called the Lagoon. We stayed 2 nights until we got our camper-van. We only had to pay 1AUD a day because it was a relocation. Our first day in the van we only drove, we had to cover a lot of miles.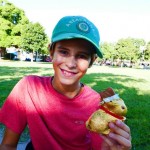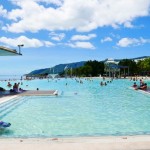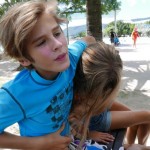 Nous avons atterri super tôt à 6.00 du mat. Malheureusement pour nous notre appart n'était pas près avant 14h00, alors pour tuer le temps nous nous sommes installés près du lagon, une grande piscine communale gratuite pour tout le monde. Nous sommes restés 2 jours à Cairns je soigne une otite, oui après l'angine l'otite alors pas de baignade… Puis mes parents récupèrent le camping car qu'ils ont loué, on le ramène pour la compagnie jusqu'à Brisbane. Ca tombe bien car c'est là où nous allons, le tout pour plus ou moins 1 dollar par jour. (En fait sans compter l'assurance, fuel etc). Ca va il est bien grand. Jour 1 ça a été route non stop…pas le plus fun, mais bon il fait avancer.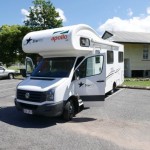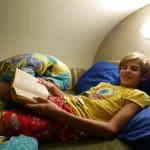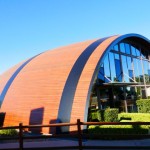 On day 2 we took a hyper fast speed boat to the Whitsundays Islands. We got to our snorkeling spot and found it very disappointing there was nothing special to it. I thought the Great Barrier Reef would be amazing with sea turtles, amazing coral and anemones, and incredible fish and sea creatures. There were some but we had seen better in Indonesia. Later we went on a bush walk, we anchored the boat to a sea turtle hot spot. There were so many I saw at least 5 and they were huge, too bad I was not swimming at that time. The walk wasn't anything special but when we reached the top the view was breathtaking. Whitehaven beach was laying in front of my eyes, it is the most incredible beach I had ever seen. The sand is 98.8% silica it is so fine that it makes a shrieking sound when you walked in. It is considered the whitest beach on earth and one the the smallest sand grain, so thin that NASA used it to make the lens of the Hubble space telescope. It almost made spirals and the water was as blue as blue can be or aquamarine. We stuck around for a while watching the little sting rays and fish go by. Then we had lunch and I went for a little swim (you had to wear stinger suits because of the jellyfish). Goanna's are like monitor lizards and we saw three of them in the shaded area. They seemed awfully comfortable around us but  one was getting really close so we backed off. It was time to leave back to Airlie Beach. The boat had 2 engines with 600 horse powers. When the skipper pushed the throttle, it was so fast it backed you up against your seat. We got back to the camper-van park, it was in the nature and there were birds every where, especially cockatoos.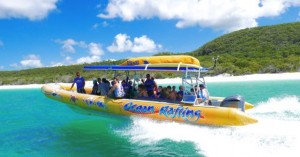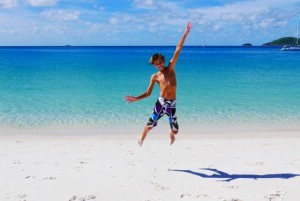 Jour 2: croisière dans les iles  Whitesundays (découverte par Capitaine Cook en 1770) sur un bateau très rapide. Nous arrivons à l'endroit pour faire du snorkeling et bien grosse déception car nous n'avons rien vu de trop spécial, je pensais voir plein de tortues et du corail différent. En fait nous avons vu mieux en Indonésie. Nous sommes montés au sommet d'une petite colline pour avoir une belle vue et là où nous avons ancré le bateau il y avait plein de tortues! J'en ai vu au moins 5 grosses, dommage que ce n'était plus le moment de nager. La vue était à couper le souffle, devant moi la plage de Whitehaven, la plus belle que j'ai jamais vu. L'eau était bleu marine et vert d'eau à la fois. Elle est très spéciale car c'est le sable le plus blanc et le plus fin au monde. NASA l'a utilisé pour faire le verre de leur télescope Hubble. Puis nous sommes tous allés à la plage pour le lunch et nager. Il fallait mettre une combinaison car il y a beaucoup de méduses ici.  Juste avant de partir sous les arbres, j'ai vu des goannas (grands lézards moniteurs coin), ils avaient l'air un peu trop confortables à mon goût l'un d'eux se rapprochait trop près, alors je me suis éloigné. Il était temps de partir pour Airlie Beach, c'était super le capitaine allait super vite et il passait dans les vagues des autres bateaux. De retour à notre campement, douche et repos, nous étions dans un endroit très naturel avec des oiseaux tout autour comme des perroquets et surtout des cacatoès.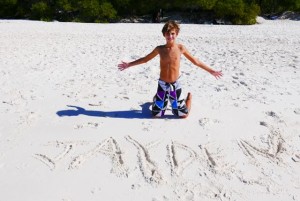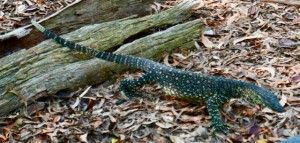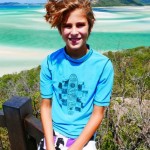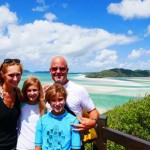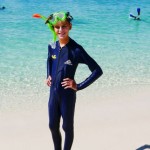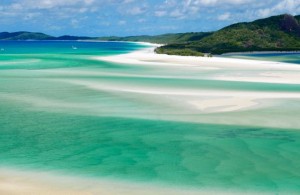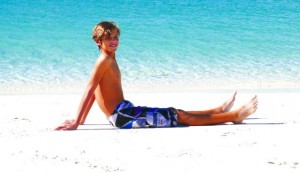 Day 3 of the camper van trip, we went to the town of Rockhampton the Beef capital of Australia. There wasn't anything very interesting about it, I didn't see many cows in the pastures. But the next day we started our day by going to the Rockhampton zoo. It was a little bit small, but I still enjoyed it. There was a gargantuan crocodile he was a good 4 meters, and 1 meter in width. We saw a cassowary which just looked prehistoric and amazing you can only find them in Australia. There was a monitor lizard and a koala. There were also chimpanzee's which I had never seen before.
Jour 3: arrêt dans la ville de Rockhampton la capitale du boeuf Australien. Pour moi c'était juste une ville normale. Je n'ai pas vu tant d'animaux que ça. Le jour suivant nous avons fait un stop au zoo local, il était petit mais j'aime bien voir les animaux. Ils avaient un énorme crocodile il devait faire au moins 3 m de long. J'ai aussi vu un casoar animal préhistorique qui ne vit qu'ici, un koala endormi (comme d'habitude), des chimpanzés (c'était la première fois que j'en vois de ci près.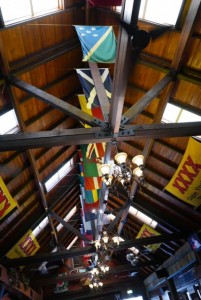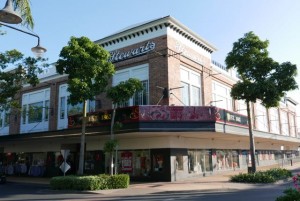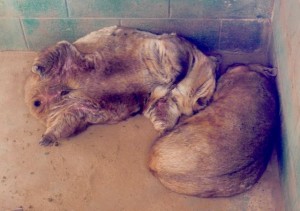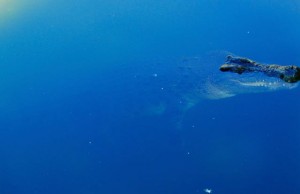 After the zoo we headed  to Noosa to visit one of my Dads friends from when he was yachting called Maria. We met her at the farmers market. Then she showed us around and went to a beach. The life guards were always yelling at you, we had to be careful of the rip current. After swimming were gather seafood for a riverside picnic. There were Moreton bay bugs (which I had never had before), prawns, oysters, smoked salmon, cheeses, breads and crackers. My favorite thing was the Moreton bay bugs they were like lobster except a lot fishier. The next day we said our goodbyes and after a little bit of driving we were in Brisbane.
Direction Noosa au nord de Brisbane, pour voir Maria une amie de mon père du temps des yachts. Nous nous sommes retrouvés au marché local. Elle nous a montré le coin puis nous nous sommes baignés. Je n'ai pas trop aimé les sauveteurs, il était  interdit de nager trop loin de nager en dehors des drapeaux…Après la baignade, nous avons préparé un pique nique pour manger à la rivière. Maria avait pris des Moreton bay bugs (sorte de langouste locale mais avec un goût plus salé), des crevettes crues et cuites, des huîtres, du saumon fumé, des fromages avec du pain et des crackers. J'ai adoré les Moreton Bay bugs. Le lendemain de nouveau sur le départ pour Brisbane.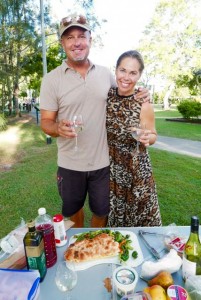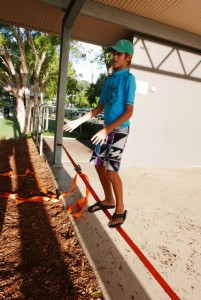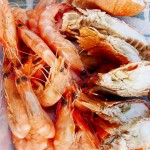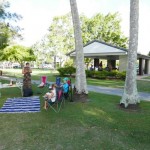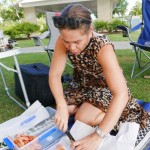 Our camper van trip was done. We got to Brisbane and got a rental car, and off to the apartment. The next day we visited another one of my dad's old friends from his yachting days. His real name was David Sharp but we called him Sharpie. He took us on his boat The Liberty. We were go fishing which I was deeply looking forward to but the ocean was to rough which made me sad and disappointed. But I got to learn how to drive a boat which was Awesome, David is really nice he just let me do it with nobody around and we were going pretty fast. When we got back to his apartment we got to meet his girlfriend Anita. They took us to a surf club for dinner we had seafood platters. The following day we went to beach then later we gathered supplies for a big dinner. I prepared stuffed patty pans with a panko crust. Melia made the brownies. Sharpie made a shrimp ceviche and my dad did some shrimps with chorizo and also did the huge mud crab. David did not have a pot big enough to cook the huge crab so we had to improvise and when my dad put the crab in the pan to steam it he did not like it at all and was trying to escaped so he had to kill it with his knife, not too cool to watch. The next day Sharpie and Anita were going to New Zealand and they were very nice  to lend us their apartment until we went to Sydney.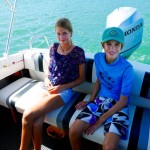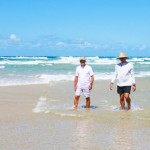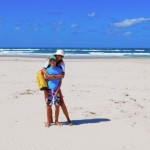 Nous avons rendu le camping car et pris une petite voiture pour aller jusqu'à l'appartement dans Brisbane, la capitale du Queensland. Nous avons rejoint David Sharp un autre ami de papa des bateaux, je l'appelais Sharpie. Il nous a amené sur son bateau le Liberty, j'étais super excité car on avait prévu d'aller pécher mais la mer était démontée  alors nous sommes restés du côté de la rivière, j'étais déçu. David a été super gentil et il m'a laissé conduire le bateau pendant 10min à pleine allure tout seul, c'était une super sensation. Au retour à son apart, il nous a présenté sa copine Anita et nous avons diné dans un resto sur la plage plateaux de fruits de mer au programme. David a continué de nous faire visiter la région de la Gold Coast, surtout les plages immenses sans personne dessus. Le soir nous avons fait les courses chez un poissonnier et pris des crevettes et un crabe Mud assez géant. David a fait un délicieux ceviche, j'ai aidé à préparé les légumes. David n'avait pas de fait tout assez grand pour faire cuire le crabe, il l'a mis dans une poêle mais il essayait de s'échapper quand c'est devenu trop chaud, alors il lui a mis un coup de couteau, assez dégoutant. Le jour suivant David et Anita sont allés assister à un mariage en Nouvelle Zélande et nous nous ont laissé l'utilisation de leur appartement, super sympa.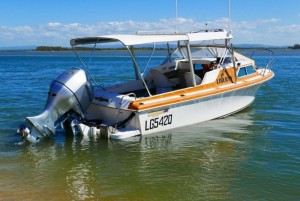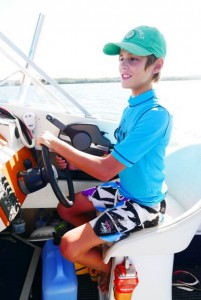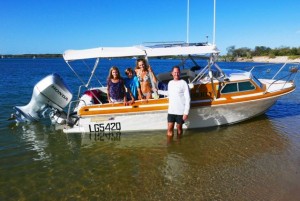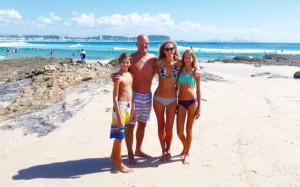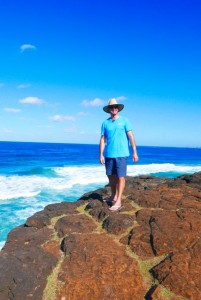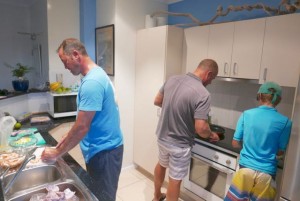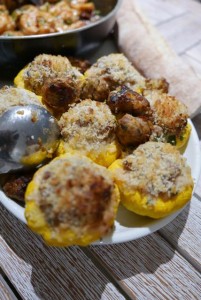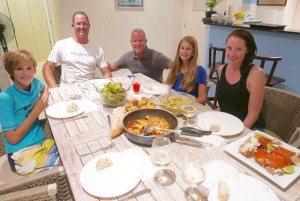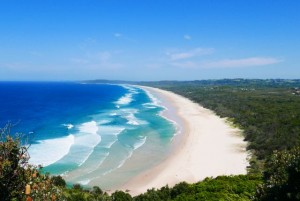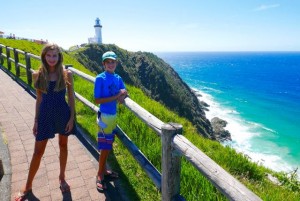 The next day we went to an aboriginal bushwalk. We had our guide that was an aborigine. She explained that the men and the women were very separate. The men would have their area that only they could be in and the women had their side. If the men would go into the women's side they would have to have a small spear jabbed into there leg slightly, it would be pulled out immediately after being jabbed. The aborigine would have a time in the day called Dream Time. It was a very spiritual moment for them when they told stories of how their world came to be. One of them was a man called the Wonder, he was known for being able to train the dingoes to herd the kangaroos and animals to the Aborigine for them to catch. The Aborigine learned that kangaroos always follow one escape path they found it and that's how they caught there kangaroos. When the Wonder died everybody was very sad but one day some boys were playing by the ocean and saw a dolphin swimming in an odd pattern and they saw that it was bring the fish towards them they went to get their fathers and they caught all the fish. They realized that it was the Wonder. The Aborigine sometimes believed that some would be reborn as animals. The Aborigine made boomerangs from curved tree roots. They only cut the boomerang out so it saved the tree. They made their shields from carving the outline of the shield then placing stones in the outline hitting tm them with a hammer and out comes your shield. There were Aboriginal laws that said that only the men can play the digeridoo and only the women can play a sort of drum. Our guide said that you put a big piece of possum skin on your lap and it's a drum. I totally think that it was amazing to learn all these facts and see all these things.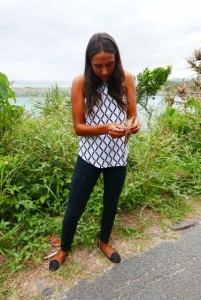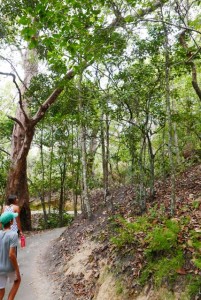 Nous avons fait un Bush Walk, une marche dans la forêt avec un guide aborigène qui t'explique les coutumes de leur tribu. Elle nous a expliqué que les hommes et les femmes faisaient beaucoup de chose séparément. Certains endroits étaient réservés exclusivement aux femmes (comme là où elles accouchent), si un homme y va il sera puni(une lance dans le mollet). Ils ne connaissaient pas l'écriture, alors tous les jours les anciens se réunissaient avec les enfants pour leur raconter les Rêves. C'était un moment très spirituel, les enfants apprenaient comment le monde s'était formé, ça diffère selon les tribus. Ici, c'est un homme appelé le Magnifique, il a dompté les dingos qui ont ramené  des kangourous et d'autres animaux vers leur campement. Les aborigènes avaient compris que les animaux s'échappaient toujours vers le même chemin, alors ils ont pu attraper les animaux dont ils avaient besoin plus facilement. Le Magnifique mourut et tout le monde était très triste, un jour des enfants jouaient près de la plage et ont vu un dauphin avec un drôle de dessin sur son dos. En y regardant de plus près, le Magnifique s'était réincarné en dauphin et il ramenait les poissons vers leurs filets. Ils croient en la réincarnation, ils ne prennent que ce dont ils ont besoin pour manger jamais plus. Quand ils prennent un morceau de bois dans un arbre ils coupent que ce qu'ils utiliseront pour être sur que l'arbre ne meurt pas et se régénère, ex pour un boomerang ils choisiront une branche déjà courbée, ou pour un didgeridoo un arbre mangé par les termites, pareil pour leur bouclier (ils tracent un oval sur un tronc et avec des haches et des petits piques ils soulèvent l'écorce). Dans leurs lois, seul les hommes peuvent jouer du didgeridoo, les femmes font un tambour avec une peau d'opossum sur leurs genoux. J'ai beaucoup aimé cette balade, et j'ai appris plein de nouvelles choses sur leur culture.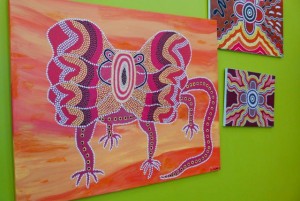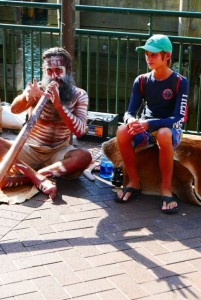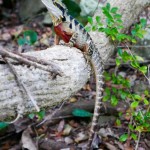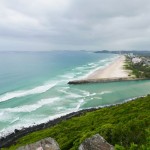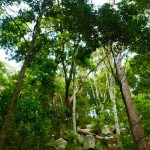 We sadly left the fun city of Brisbane for Sydney. Our camper van  was the puniest one ever. We drove that first day to reach Nelson Bay, we arrived late and the camp was not great, but we were there just to sleep.
Nous avons quitté Brisbane et ses plages pour un voyage jusqu'à Sydney. Cette fois ci notre camping car est tout petit (il est pour 4 personnes quand même). Nous avons conduit toute la journée pour nous rapprocher de Nelson Bay, notre campement n'était pas super mais nous n'y restions pas juste pour dormir.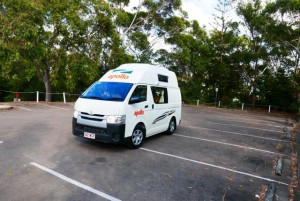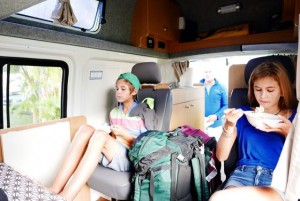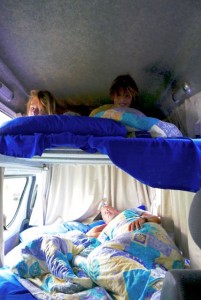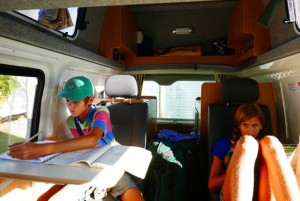 The day after that was nothing but fun on Nelson Bay about 3H north of Sydney. We first went dolphin watching. A ton of them came right up to the boat and swam under it, others were just swimming doing their thing. I really thought that it was amazing. But the fun was not finished, after we went quad riding which was the most awesome thing ever. Especially when I went fast and down the long steep dunes. At first it was super hard to control since it was my first time driving one. After a while I was going full throttle every time I could. We had to follow a guide so we couldn't go as fast as we wanted or go free roaming which I would have gone crazy to do. I think that we couldn't have gone at a better time because it was right at Sunset.
The day after that we finally made it to Sydney.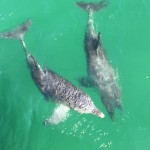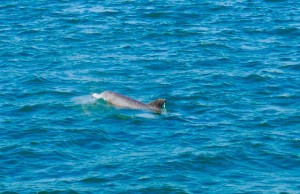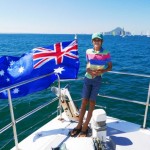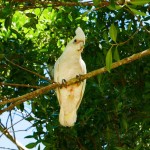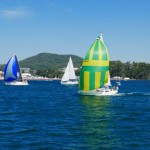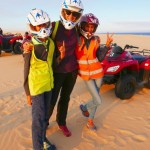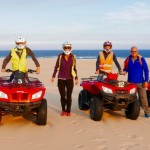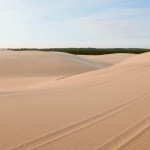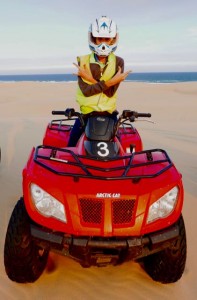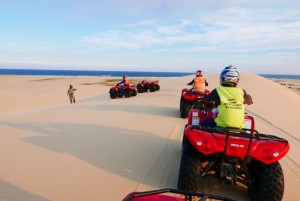 Nelson Bay a été une journée de fun complète au programme: croisière dans la baie pour voir les dauphins. Nous en avons vu beaucoup, ils venaient près du bateau et passé en dessous. J'ai adoré les voir comme ça autour de nous. Puis le summum de l'après midi: conduite de quad dans les dunes de sables du park national de Worimi. Au début c'était un peu difficile à manier comme je n'en avais jamais fait puis sur la fin j'allais à toute vitesse. Nous devions suivre un guide, donc nous ne pouvions pas aller au maximum mais nous avons descendu de grandes dunes. Nous étions là au moment du coucher du soleil, sur les dunes c'était un spectacle inoubliable. Le lendemain départ pour Sydney.