When we arrived at the Naqalia lodge and we were greeted with Fijians playing the guitar and singing. We got our bungalow and explored the place a little. The people were so nice and they really made sure that you were having fun and you were happy, and they did a really nice job doing so. Every day we went on snorkeling trips and picnics. The snorkeling wasn't that bad, I was really expecting sea turtles and other cool sea creatures. But there weren't, although one day I saw a tiny moray eel in some seaweed. I was also thinking that the beaches of Fiji were the lagoon like beaches with the perfect white sand, and turquoise waters.

Quand nous sommes arrivés à notre hotel le Naqalia lodge nous avons été reçus avec des chansons et un joueur de guitare sur la plage. Après nous être installés, nous avons fait un petit tour des environs pour nous repérer. Le personnel très nombreux était vraiment très sympathique, ils voulaient vraiment que notre séjour se déroule bien. Tous les jours nous avons fait du snorkeling en groupe et des pique-niques. Le snorkeling était ok, mais j'espérais tellement nager avec des tortues et d'autres créatures, que j'étais un peu déçu de ne voir que des étoiles de mer ou une murène. Je pensais que les plages étaient aussi spectaculaire que Whitehaven beach en Australie blanches et des eaux turquoises.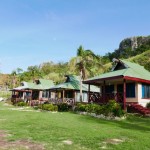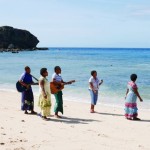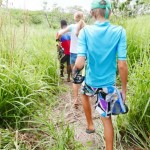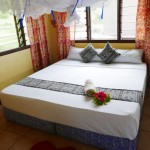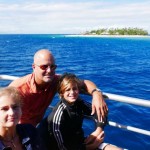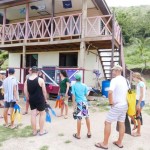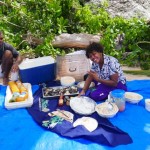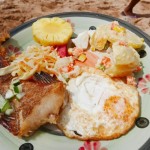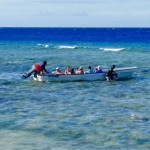 Every night there would be dances, I won limbo the one time they played it then there would be the cava ceremony. It was a tradition to do when a new member of a clan came in. I participated in it most nights. The cava tasted like water with dirt and soap, I once took the high tide bowl without thought and I regretted a lot. My favorite picnic was the first one we went on. I spent most of my time digging like a miner with a stick that I found, because it looked like a pix axe. For the actual lunch there was fish, potato salad and fruit. After lunch everyone went snorkeling. I definitely say the coolest thing I saw was a huge starfish with a dozen legs and lots of spikes. I also saw some squids.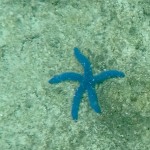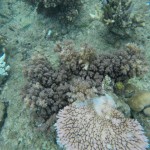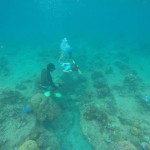 Pendant les repas, ils jouaient de la guitare et chantaient des chansons locales. Un soir il y a eu comme une petite fête, où on a dansé et j'ai gagné le concours de limbo. Ils ont une cérémonie très traditionnelle qui s'appelle CAVA. Quand on a arrive dans un village ou que l'on est nouveau dans un clan on doit faire cette cérémonie. Je l'ai faite presque tous les soirs. Tu dois boire le cava ça a le goût de l'eau mélangée avec de la terre et du savon. Ce sont des racines qu'ils broient et ils les mélangent avec de l'eau puis ils essorent ça et tu bois le jus. Une fois j'ai demandé ma coupe pleine et j'ai vite regretté…c'était un peu trop mais j'ai tout bu. Nous avons fait plusieurs pique niques, mon préféré était celui du premier jour où nous sommes allés sur la plage de l'autre côté de l'île. Je me suis amusé sur la plage à creuser avec un drôle de baton que j'avais trouvé. Pour manger, il y avait du poisson, salade de pomme de terre et des fruits.  Pendant notre snorkeling, j'ai vu une drôle étoile de mer avec 12 bras et des pics, elles n'existent qu'ici apparement, et aussi des seiches elles nagent de façon super bizarre.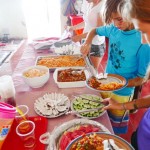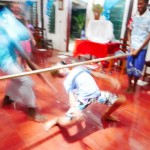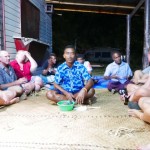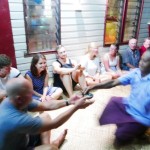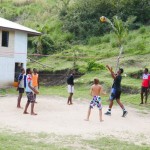 Melia and I went on a shark feeding adventure. It was by far my favorite thing we did. We were swimming with wild white tip reef sharks and they were a decent size at least 4 ¾ ft. There was another group of 10 people and they were so rude they were always kick everybody else. The Fijian staff from of bungalows were grabbing the sharks and swimming under water with them.  I did feel how they didn't have any bones just cartilage. One of the sharks was trying to get out of our guides grip and it looked like it was trying to attacking me. It was trying to lunge out in my direction. It was so cool when they swam up to me and circled me. It was a true experience for me.
Avec ma soeur nous avons participé à une sortie en mer avec rencontre de requins. De loin ce que j'ai préféré ici. Nous avons nagé avec des requins récifs à pointe blanche, ils étaient de bonne taille plus ou moins 1,60m. Il y avait un autre groupe de 10 personnes avec nous je n'ai pas trop aimé car ces adultes te passaient devant ou te donnaient des coups de palme. Nos guides du resort sont des nageurs exceptionnels, et ils arrivaient à attraper les requins et nageaient avec eux jusqu'au fond.  J'en ai touché un et tu réalises alors qu'ils n'ont pas d'os mais ont seulement du cartilage. A un moment donné, un des requins essayait de se défaire de l'emprise de notre guide et en se débattant, il s'est dirigé vers moi à grande vitesse, un peu peur. Mais c'était cool quand ils me tournaient autour. Une expérience que je n suis pas près d'oublier.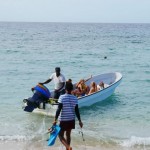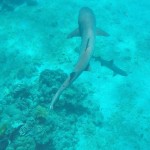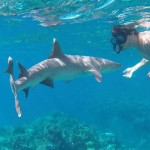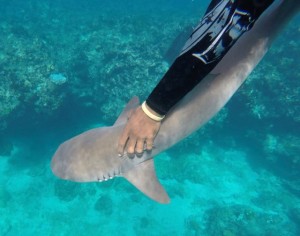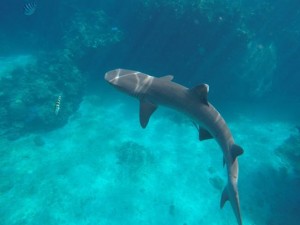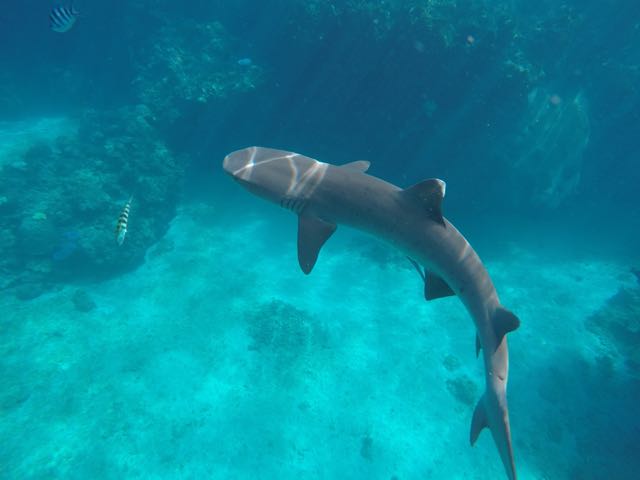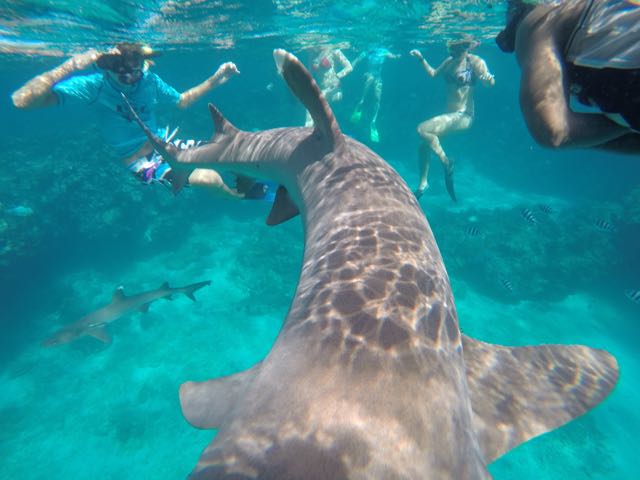 The same day I went hand line fishing with my dad. I didn't catch anything which really sucked but our boat captain caught a small white tip reef shark. It wasn't so much a fish trip because we barely caught anything but it was more of a sunset cruise, and the sunset was beautiful.
Le soir je suis allé pécher avec mon père. Il y a pas mal de poissons mais nous n'avons pas eu de chance car je n'ai rien attrapé. Le capitaine a attrapé un petit requin que nous avons relâché. Au lieu de poissons, nous avons pu admirer un super coucher de soleil.
We went to white sandy beach, another island, we took a small boat and it was rough to go there, I was completely wet by the time we arrive. The beach was large but not as white as I was imagining with this kind of name. I played on the beach and swam a little, then we had a pique nique on the beach and Sam played music for us. The ride back was much nicer.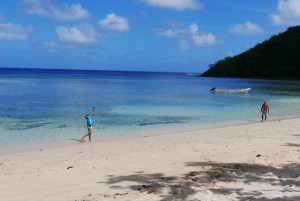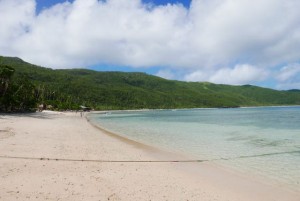 Nous avons fait une sortie sur l'île Plage de Sable Blanc, nous sommes partis dans une petite barque et le voyage aller a été assez agité, j'étais tout trempe quand nous sommes arrivés. La plage était grande et bien protégée mais pas avec du sable blanc, le nom était trompeur. Je me suis amusé sur la plage et j'ai un peu nagé puis nous avons fait un pique nique et Sam nous a joué de la guitare bien sûr.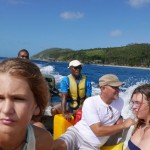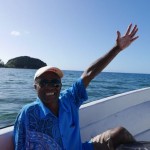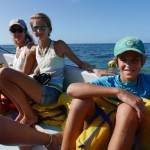 We took the ferry back to the main island. We hopped on a bus for our hotel. I had no idea what it looked like or where it was, until our bus stopped at this amazing looking place. In my head it was thinking I wish we were staying here and it turned out we were. The Sofitel hotel was beautiful. The next day, I explored all the activities. Every day there would be something different. Like pottery and kite making both of which I did. The kite making was a little bit boring because we only made one kite and only the instructor got to fly it. I wasn't that bummed out by it because it's just a kite, I could make those any time. I mostly swam in the pool. Another day we visited the harbor and I found this really cool shirt which I thought would be perfect for a souvenir. The 2 days that we stayed at the Sofitel were the same, eat a huge breakfast because they had this huge buffet, go to the pool, do the activities, dinner and go to the room. The second day we had to stay up until 2:00 A.M for our plane to Ecuador. On our way with the flight we would stop in Los Angeles for a layover and we would visit my Aunt Michele. Then it was flying off to Ecuador.

Nous avons repris le ferry pour l'île principale. Un bus nous attendait pour nous amener à notre hôtel. Quand il s'est arrêté devant un endroit magnifique, je me suis dit qu'est ce que j'aimerai que ce soit le notre. A ma grande surprise mon père m'a dit que nous étions arrivés à notre hôtel! le Sofitel était magnifique. Le lendemain, j'ai exploré le lieu et fait des activités. Il y en avait des différentes tous les jours, comme poterie (j'ai fait une tortue symbole de longévité pour les Fidjiens) ou faire un kite (l'instructeur ne nous a pas trop laissé faire tout seul). J'ai surtout bien profité de la piscine. Nous sommes retournés au port car ils avaient des magasins sympas et j'ai acheté un T shirt comme souvenir. Nous sommes restés 2 jours, et fait plus ou moins la même chose: manger un gros petit déjeuner car le buffet était énorme et tu pouvais prendre de tout, aller à la piscine et faire des activités. Notre vol pour l'Equateur ne partait pas avant 2.00 du matin, longue journée! Puis nous avons fait une escale à Los Angeles et ma tante Michelle avec son mari Donny sont venus nous rejoindre pendant quelques heures avant notre vol suivant.