Entering Sydney. It felt so nice to be back in an apartment again and in a major city. You may or may not be wondering what we did there. For starters, we visited the Blue Mountains. Not as famous as the Opera House but nonetheless stunning. More like a valley than mountains, the Blue Mountains get their name because of the blue mist that rises up from the eucalyptus forest. A green carpet of trees stretched as far as I could see, over mountains and in between crevices. All the bakeries seemed to make up for the dreariness of the town. We went to a botanical garden with a hugely diverse arrangement of plant and flowers, some vegan, others not, and some even dating back 40,000,000 years! From Dahlias to Venus flytraps, they had it all!

Nous voici enfin à Sydney. J'aime bien être de retour dans un appartement dans une grande ville. Vous devez vous demander ce que nous avons fait ici. Nous avons visité les Blue Mountains, les Montagnes bleues. Pas aussi connues que l'Opéra de Sydney mais je trouve que ça valait le coup d'oeil. C'était plus une vallée que des montagnes très hautes, elles s'appellent bleues car les eucalyptus dégagent des vapeurs qui leur donnent un aspect bleuté. Ca ressemblait à un grand tapis vert qui aurait été déposé entre 2 piliers. Nous avons déjeuné en ville, plein de petits cafés mais surtout énormément de pâtisseries!   Nous avons admiré les jardins botaniques de la région (toutes les villes de l'Australie ont des jardins botaniques, toutes!). Il y avait des fleurs et des arbres très variés, certains datant de plus de 40 million d'années comme l'arbre fougère. Malgré l'automne il y avait des fleurs et beaucoup de dahlias.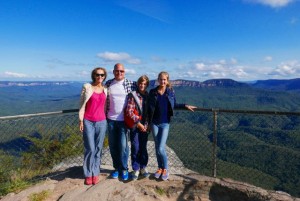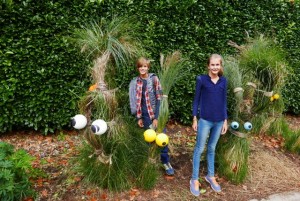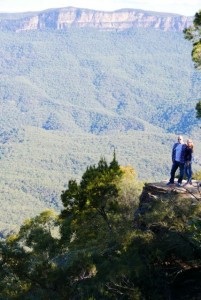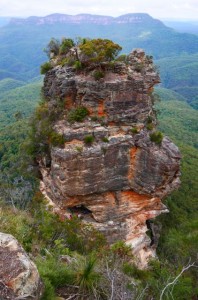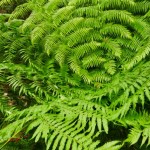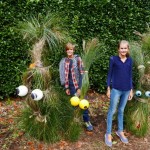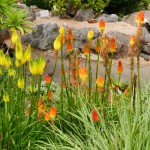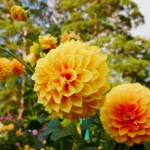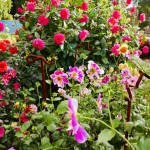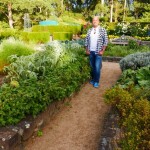 Back in Sydney, we had to do the most iconic thing there, walk across the Sydney Harbor Bridge and visit the Sydney Opera House. Those were my two favorite things we did there, being an architecture enthusiast. It took Jørn Ultzon (the architect of the Opera House) 16 years to complete it, due to engineering and budget problems. Built to look like the white sails of the yachts in the harbor, the Opera House is now one of the most recognizable buildings in the world. And my favorite. Especially at night, when it becomes the illuminated centerpiece of the Harbor. We spent a week in Sydney, and about half of that time was spent in our apartment, doing homework which wasn't fun because who likes doing homework, right? Last but not least, a harbor boat tour. I say last not because it's the last article in this blog, but because we went on it on our last day in Sydney. When Captain Cook first came upon Australia in 1770, which is now modern day Sydney, he liked that area because of the protection that the bay offered for is boats. As part of our tour, we stopped in a near-by town called Manly. Weird name, but cool town. As I strolled down the long avenue of brightly colored colonial buildings, I smelled the beautiful scent of fresh Belgium waffles and coffee. And the beaches stretched for… half a kilometer. As did Bondi, Sydney's famous beach. So that wraps up Sydney, I had an amazing time visiting all of the famous landmarks; Blue Mountains, Sydney opera House, and Harbor Bridge.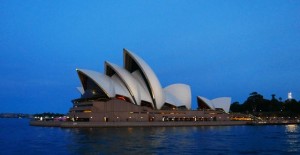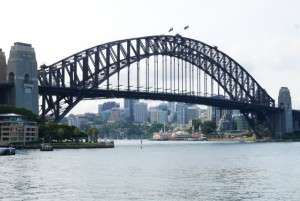 De retour dans la ville, nous nous sommes intéressés aux bâtiments les plus connus de la ville. Le Pont du Port Sydney Harbour Bridge et l'Opéra. J'ai beaucoup aimé ce quartier appelé les Rocks, très vivant. Il a fallu 16 ans à Jørn Ultzon pour que son oeuvre soit achevé, l'opéra à cause de problèmes de construction et d'argent. Construit pour ressembler aux voiles des bateaux naviguant dans la baie, il est devenu l'image de Sydney voir de l'Australie. Les Rocks sont aussi formidables de nuit quand les édifices sont éclairés. Le pont est aussi spectaculaire, nous avons eu la chance de le traverser à pied mais aussi en voiture.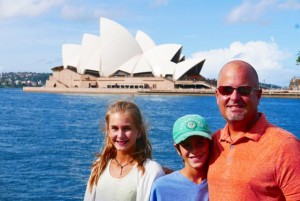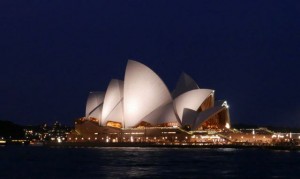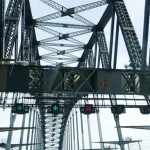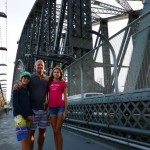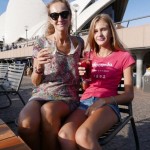 Nous avons passé pas mal de temps à faire des devoirs car pendant le voyage en camping car ce n'était pas évident. Mais qui aime passer son temps à faire des devoirs quand on est dans une grande ville? Notre dernier jour nous avons fait une croisière dans la baie. Quand Capitaine Cook a découvert l'Australie en 1770, il s'est installé dans la baie car ses voiliers étaient protégés. Nous avons fait un stop à la petite ville de Manly, qui a une plage, petite ville très coquette et mignonne avec son esplanade et des café. Il était difficile de résister à l'odeur alléchante des gaufres. Et les plages sont tellement grandes ici en Australie. Pour conclure, j'ai bien aimé l'Australie.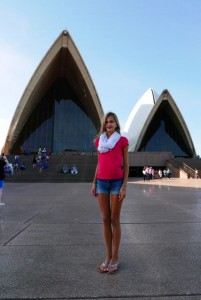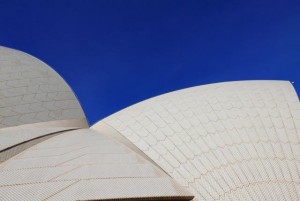 Farewell Australia. Adieu Australie.