Another full day of travel before arriving in Labuan Bajo, on the opposite side of the island from our first bungalows. I had high hopes for this place. I was excited to get back to a decent tourist town after 5 days of run-down villages. The way I expected it was a miniature version of Sairee beach (Koh Tao Thailand); a long beach lined with cafes and shops. It was no better than Bajawa. Dirt roads, sketchy buildings, not a clothing shop in view except for a single "I love Komodo" underwear vendor.
Toute une journée de voyage en voiture pour arriver à Labuan Bajo, à l'est de l'île de Flores. J'avais espoir d'arriver dans une ville décente car c'est l'endroit le plus touristique de l'île. Dans ma tête je voyais un village comme Sairee sur l'île de Koh Tao, Thailand, la plage avec plein de petits restaurants et de magasins. Eh, bien non! Pareil que le reste ou presque, les rues qui ne ressemblent à rien pas propre, pas de magasins intéressants sauf 1 ou 2 qui vendaient des T shirts I love Komodo. J'étais super déçue.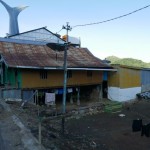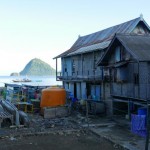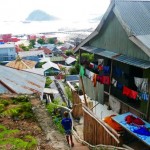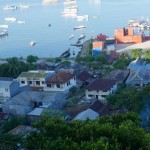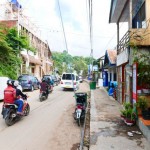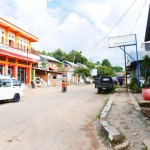 The best part of that town was the hotel. The reason we went to Flores in the first place, to see the famous Komodo Dragons. Our wooden mint green and white boat left at 7:30am. The roar from the old motor limited our conversations to "are we there yets" and "are you colds". Yet in 2 hours (a short time compared to the 35 hours we spent in the car on Flores) we had already set foot on the land before time. Our very first encounter was with a juvenile. It wasn't keen on us so it waddled away into the dense jungle. Our ranger Putu brought us to the kitchen station was where 12 adult dragons lay basking in the sun. They looked almost silly with all four legs sticking straight out from their plump scaly bodies. A few lifted their heads up lazily as we passed by but otherwise didn't show much interest in us until the biggest one got up and walked toward the path all the while hissing like a crocodile. The back of its tail was painted red as to make it easier to recognize it as a ferocious man-biter, explained the ranger. That's the most comforting feeling, knowing that you can be eaten at any moment by a prehistoric lizard with only a ranger with a forked stick to protect you! (Spoiler Alert, I made a tasty snack). Our trek continued through the jungle where we saw a Komodo nest, Guiney hens, monkeys, and some deer. We walked around the island for an hour before returning to the ranger station. We were very lucky that day, seeing 16 Komodo Dragons in one day is rare. The next day we were off yet again to our final destination on Flores; Kanawa Island.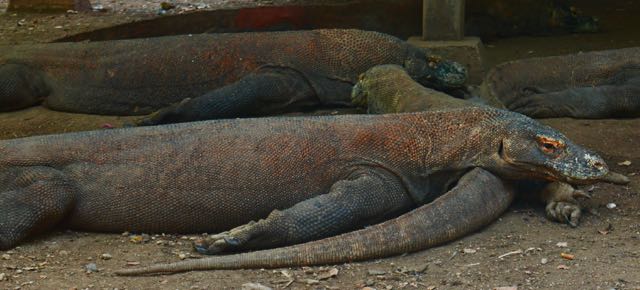 Par contre les hôtels étaient quand même bien mieux. Nous sommes venus sur Flores pour voir les dragons de Komodos. Nous voilà embarqués sur un petit bateau en bois peint vert menthe, le moteur était tellement bruyant que notre conversation se limitait à "Sommes nous bientôt arrivés?" Il nous a fallu un plus d'1 heure pour arriver sur la fameuse île de Rinca qui avec celle de Komodo sont un parc national où on trouve ces fameux animaux presque préhistoriques. Dès notre arrivée nous avons vu un jeune qui ne s'est pas attardé et s'est caché dans la jungle. Notre ranger Putu nous a amené vers la cuisine du campement des rangers où une douzaine d'adultes se reposaient à cause de la chaleur. Ils avaient une drôle d'allure avec leurs 4 pattes étirées à plat. Notre présence ne les dérangeaient pas vraiment, rarement l'un d'eux lever la tête pour voir ce qui se passait. L'un des gros mâle s'est soudainement levé en faisant un bruit pour se mettre quelques mètres plus loin. Il avait de la peinture rouge sur le dos, notre ranger nous a expliqué qu'il était marqué parce qu'il avait attaqué un humain, donc tout le monde le surveillé de très près. Le ranger avait seulement un baton pour nous sauver s'il venait à nous attaquer, je ne sais pas si c'est très dissuasif face à ses bêtes! Je pense que je suis de bonne taille pour être croquée comme snack. Le ranger nous a baladé dans la jungle et on a vu là où les femelles pondent leurs oeufs, nous avons aussi vu des pintades sauvages, des singes et des cerfs (tout ça fait un bon snack pour les komodos) même s'ils préfèrent les buffles. Nous avons eu de la chance de voir 16 dragons de Komodo en tout dont 5 dans la jungle, apparemment c'est assez rare. Demain nous partons sur l'île de Kanawa autre destination spéciale de Flores.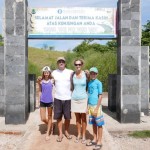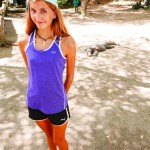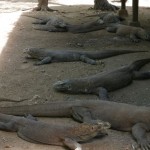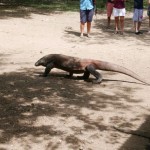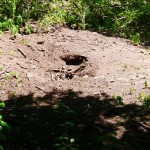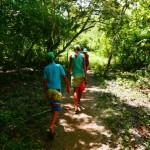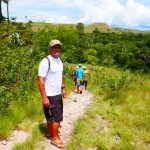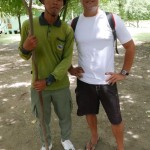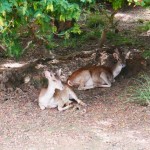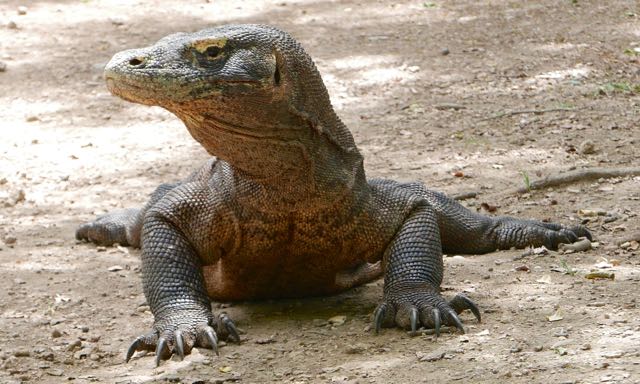 The big wooden boat rocked from side to side as it hit the waves. 45 minutes and we were already on the island of Kanawa. The coral reef coming in fanned out far and wide, making us take a large loop to get onto the boardwalk. Looking into the clear turquoise water, I could see dozens of big red and blue starfish. The restaurant was a thatched roof with some chairs and tables beneath it. And the bungalows looked like they were from a horror movie. Their ripped thatch, chipped white paint, and rotten floorboards didn't make me feel any more welcome. And the shower was a bamboo spout coming out of the cracked cement wall. I kept trying to remind myself that I was just there for the snorkeling. But the trash-laden beach was sad to look at.
Un large bateau en bois nous a transporté sur l'île de Kanawa, il nous a fallu seulement 45 minutes. La mer était calme et ce fût une bonne traversée. Le bateau a fait un détour lors de notre approche de l'île car le corail était presque à la surface de l'eau, je pouvais voir des étoiles de mer bleues et l'eau turquoise comme sur les photos. Le restaurant était assez basique un hangar avec un toit, des tabourets et des tables, la nourriture était par contre très bonne. Par contre les bungalows, on aurait dit qu'un ouragan était passé par là.  Digne d'un film d'horreur. Leur toit de chaume a moitié parti, montant en bois pourri, peinture qui s'écaille, franchement pas le genre d'endroit dont je rêvais. Salle de bain, un gros tube de bambou, ils amènent l'eau depuis Flores nous avons eu la chance de toujours en avoir mais un des soirs après 18h il y en avait plus et les gens n'ont pas pu se laver ou juste se rincer. J'essayai de prendre cette aventure avec philosophie nous étions là pour les fonds marins pas la chambre…Pour arranger le tout, la plage avait beaucoup de détritus surtout du plastic. Véritable problème ici car ils jettent tout à la mer, les employés ramassaient des sacs de détritus échoués sur la plage ou flottant dès 6h00 du mat.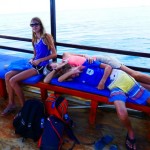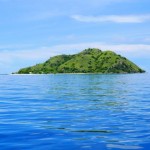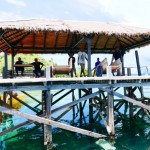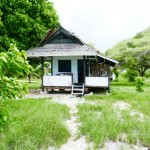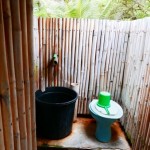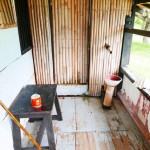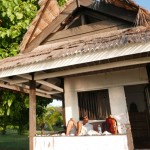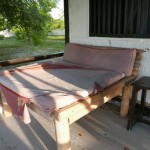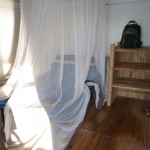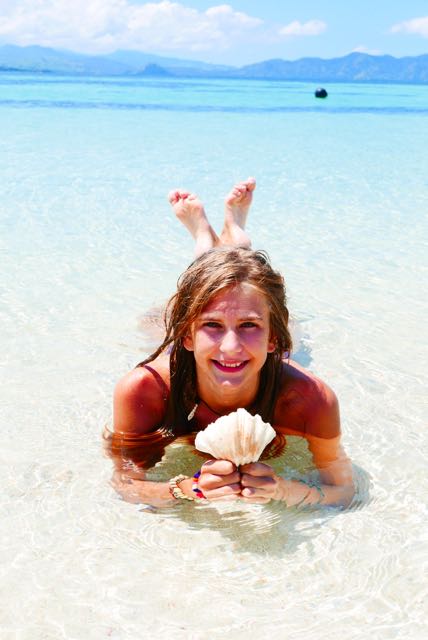 Yet the water was warm and the coral was huge. A vast plain of staghorn coral, giant clams, and sea anemones dominated the ocean as far as I could see. And that's not to mention the fish. Their bright blues, reds, greens, oranges, and yellows made up for their small sizes. Out of all the animals that I saw, the hawk bill sea turtle I spotted was by far my favorite. I tried swimming with it, but I just freaked it out and with its flippers, it could swim faster than I. Nonetheless I got to see a wild sea turtle! Other animals we encountered while snorkeling were some reef sharks (finally), a lion fish, 2 sting rays, a giant puffer fish, 2 moray eels, and many, many clownfish of every color and size. You should know that we didn't spend all of our time swimming around. Jayden and I played with some Indonesian-French boys Alif and Marc about our age which was very nice. The food at the restaurant had surprisingly good spaghetti Bolognese. That was the only thing I ate besides my eggs and toast for breakfast! Although the coral and the fish were one of the best in Indonesia, I was anticipating our departure. I was exhausted after 2 hot, sleepless nights in that nightmarish bungalow.
L'eau était super bonne et le corail gigantesque! Avec des clams géants, sur des mètres il fallait faire attention car le corail n'était qu'à quelques centimètres de nous, des anémones avec des poissons clowns de toutes sortes. Sans oublier les poissons, noirs, bleus, jaunes, oranges. J'ai nagé avec une tortue que j'avais vu au loin. J'ai tout de suite averti les autres et nous nous sommes dirigés vers elle. Nous avons nagé un peu avec elle puis elle a commencé à accélérer et je n'ai pas pu suivre. Mais j'étais super contente. Nous avons vu enfin je dois dire des requins de récifs, un poisson lion (magnifique mais il faut faire attention car il a du poison), 2 raies, un poisson gonflant gigantesque, 2 murènes, et bien sûr des poissons clown. Jayden et moi n'avons pas passé tout notre temps à faire du snorkeling, nous avions trouvé 2  garçons franco-indonésiens Alif (12ans) et Marc (8ans), nous avons joué au foot, fait des batailles dans l'eau c'était sympa. Au resto, mon plat préféré était les spaghettis bolognese  et les petits déj avec des oeufs au plat. Même si ça valait le coup de venir ici, je me languissais de retourner sur Labuan Bajo et de dormir dans un vrai lit, il faisait vraiment trop chaud ici et je n'ai pas bien dormi.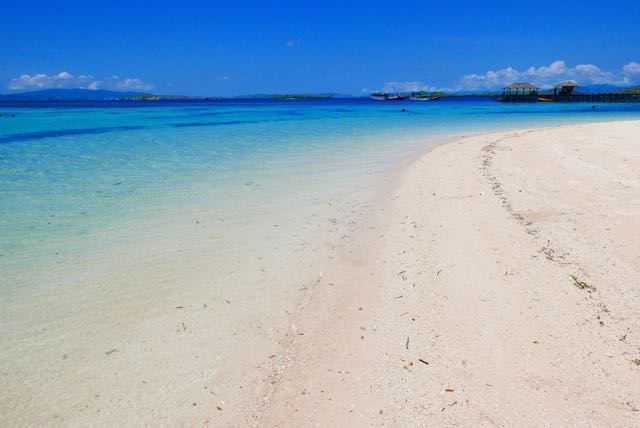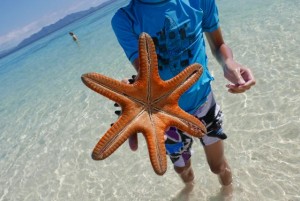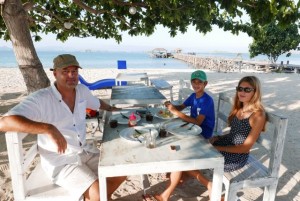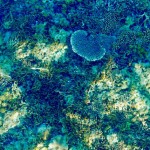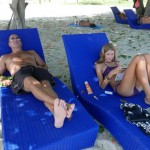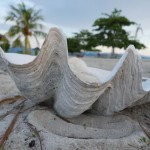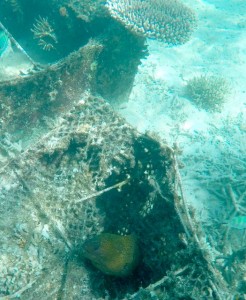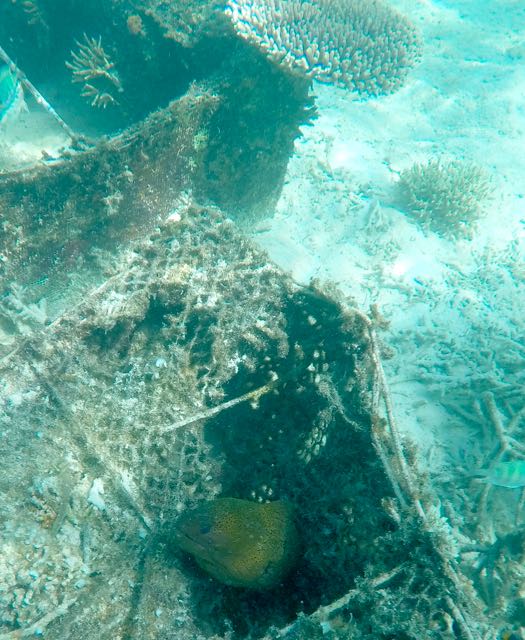 Flores was one of those islands that you only visit once. It is authentic, the people are very nice and pleased to say Hello Mister all the time. It has some beautiful landmarks like the spider web terraces of Cancar, the volcanoes, and the reefs, but I like lively towns and more upscale places to sleep in with better mattresses and hot showers. I have been looking forward to returning to Bali ever since we arrived in Flores, and now I'm almost there!
Pour moi, j'ai visité Flores une fois et je ne pense pas que j'ai besoin d'y revenir. C'est très authentique, les gens portent encore les costumes traditionnels et ils sont très gentils, les écoliers aux bords des routes ou des rues nous disaient Hello, Mister tout le temps. Les rizières de Cancar sont extraordinaires en forme de toiles d'araignée, les volcans sont magnifiques et les îles autour de Labuan Bajo avec un corail spectaculaire. Mais c'est difficile de voyager, les routes sont tortueuses, il pleut beaucoup en altitude, le manque de confort (électricité ou eau chaude). Nous retournons sur Bali, et j'avoue que j'ai hâte d'y être.