Bali was the first place that I felt a special attachment to out of all of the other countries we've been to. Leaving was the last thing I wanted to do, especially after my mom told me that we would be staying in bungalows with neither Wi-Fi, hot water, nor electricity. Well, there was nothing I could do. After the plane landed, we waited 25 minutes in an airport terminal smaller than my house for 1 luggage.
Bali est le premier endroit où je me suis vraiment sentie chez moi depuis notre départ. Je ne voulais vraiment pas partir surtout après que ma mère m'a dit que nous allions  dormir dans des bungalows sans électricité, ni eau chaude. Il n'y avait rien que je puisse faire à ce sujet. Après notre vol de 1h15, nous avons attendu 25 minutes pour seulement 1 sac enregistré, le terminal ressemblait plus à un hangar qu'un bâtiment.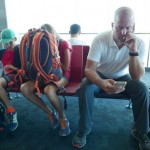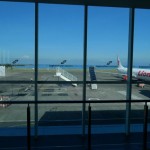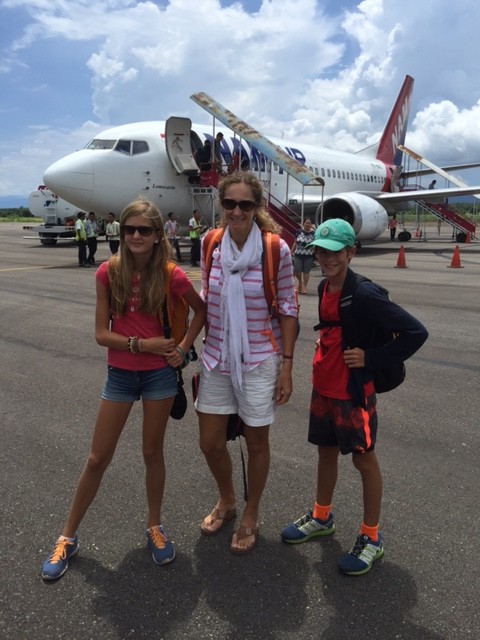 We found a cab driver to take us to our beach side bungalows. Beach side, check, rustic, check. About the only amenities were a bed, shower head, mosquito net, four walls and a roof. My favorite things about this particular place were all of the shells on the beach and the incredible snorkeling.
Notre taxi nous attendait et nous a amené chez Lena's House. Plage elle est là, coté rustique là aussi. Plus ou moins un lit avec une moustiquaire et 4 murs en bambous tressé, ah! j'oublai un toit aussi. Par contre une des meilleure plage pour trouver des coquillages! Je commence à avoir une jolie collection.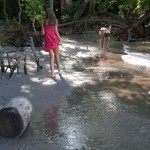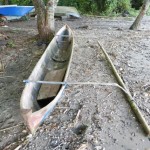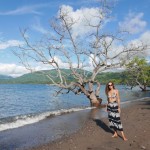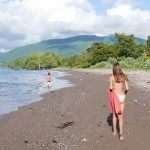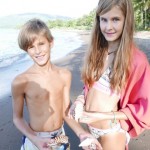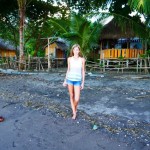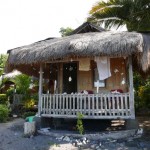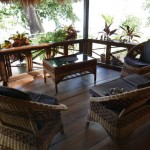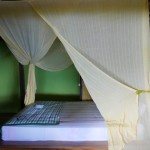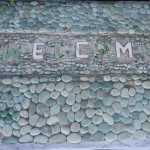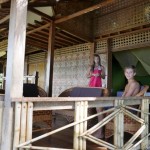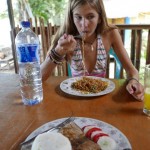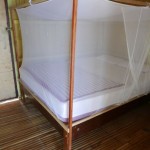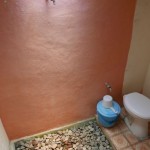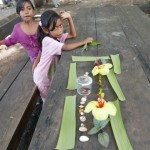 We went on a trip on an old boat. It took us a while to get to the first island but when we did, I didn't want to leave. The water was of such clearness that I could have easily been in a swimming pool. The coral. It was better than all of Koh Tao combined. The shallow depth made it easier to see. There were all kinds of shapes and sizes. Long and tubular, curly, sponge-like, fan, hard, delicate, purple, pink, yellow, blue, red, green, the list keeps going on and on. There were weren't many fish larger than my palm, although blue starfish as big as my face I could see everywhere. After that we went to Babi Island. This time with less of the bright kind and more of the delicate blue finger coral. I found a giant spiky starfish considerably larger than all of the other ones. I wanted to take it home, I inferred that since it was stiff, it was already dead. Not the case. When touched, they release a bio toxin, which causes them to harden as a form of protection. We had some Nasi Goreng aboard the boat while our captain drove us to the third and final snorkeling spot. The water was warm compared to the glacial rain pouring down on top of us. From up above, I could visibly see black spots in the water, only when I was under that I saw that those spots were sea urchins. Hundreds of them, and not a single exoskeleton for me to collect. (You can count my sand dollar finding as one of them if you want). The water there was deep, and got only deeper as the ocean floor dropped suddenly into a continental shelf of coral. This would have been ideal for scuba diving, I could hardly see the bottom. Fish seemed to like it there. They especially liked hanging around the bright green afro carpet-like coral. Even with the warm water, we didn't linger long. Getting back was slow business; the motor had to be periodically cranked so it would work. Fuel was running low and the rain didn't show any mercy. We left the next day to go on an adventure.
Une des choses à faire ici à Maumere est du snorkeling avec masque et tuba, nous avons pris un bateau (assez rustique lui aussi!!!). Il nous a fallu une bonne heure pour atteindre notre premier stop. Il n'y a pas d'autres mots que spectaculaire! L'eau était tout simplement aussi claire qu'une piscine, depuis le bateau tu voyais les fonds comme avec un masque. C'était bien plus beau que Koh Tao, Thaïlande, le corail et une multitude d'étoiles de mer bleues et autres. Je me suis régalée à nager au milieu de ce monde océanique. Les poissons n'étaient pas très grands et gros mais il y avait quand même de la variété. Notre second arrêt Babi Island, l'île aux cochons,  le corail était moins divers ici, mais on aurait dit des doigts bleus. J'ai oublié de vous dire NOUS N"AVIONS PAS DE PILES dans le Go Pro donc nous n'avons rien pu filmer…J'ai trouvé une drôle d'étoile de mer orange avec des piques, je voulais la garder je me suis dit comme elle était toute raide elle devait être morte. En fait quand elles sont changées de place elles produisent une toxine qui les raidissent comme moyen de défense. Après notre déjeuner composé de riz frit, nous sommes allés vers un autre spot. Il y avait un tapis d'oursin, malheureusement je n'ai pas trouvé de squelette pour ma collection. Ici, nous avons vu des clams géants, le plus intéressant était le mur de corail qui passait de 2m de profondeur aux abysses. Ce doit être super de faire de la plongée sur ce mur. L'eau était chaude pour nager, par contre nous avons eu droit à une pluie torrentielle et froide sur tout le chemin du retour. Le lendemain nous étions en route pour la traversée de l'île.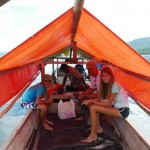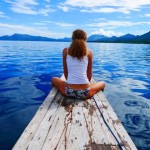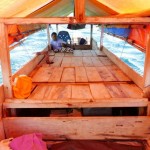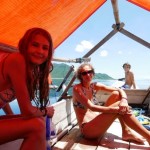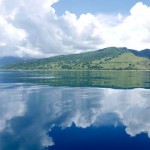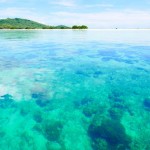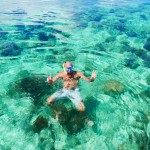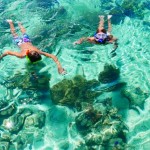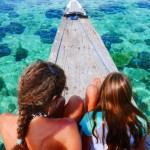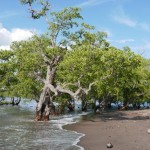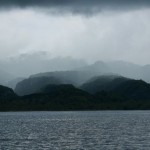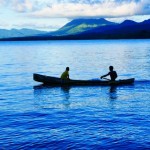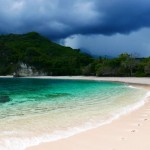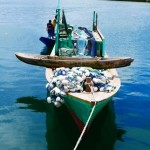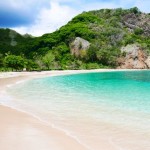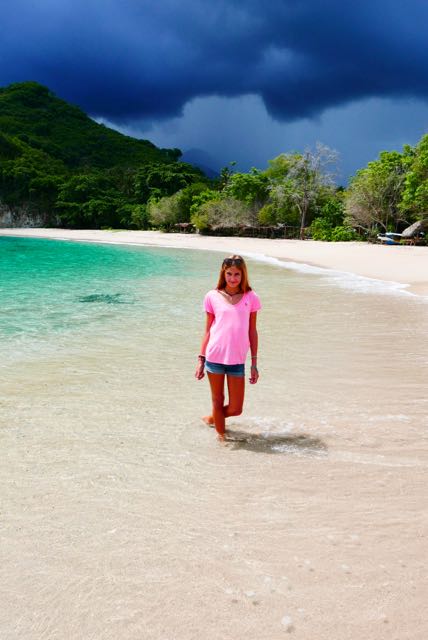 Sitting in a car all day with a driver who says yes yes and merci to everything that you say to him is not my idea of fun. Riding through the countryside of Flores was like riding through Laos. Small bamboo houses, old, dingy motor shops where they sell gasoline in vodka bottles, cows grazing beside the road, and suicidal dogs I call them(because the dogs don't seem to care whether there is a car or not to cross the road). To make things a little more interesting he brought us to a local market. Flores is mainly a Christian island, but I still whore a sarong to cover up my denim shorts. There I saw live animals like baby goats and pigs riding on the back of scooters which was a very strange sight. I saw people selling every type of warm weather vegetable imaginable; yams, corn, tomatoes, potatoes… The smell coming from the dried fish and squid was horrific, pungent, salty, fishy disgustingness. There were many spices like local ginger, cumin, and curry powder. But what intrigued me the most were the people. Flores is an island that just opened up to tourism, so many of these locals had never seen a white person before. They all stared at me, especially the elderly women and some curious children. Some smiled while others cackled and pointed when they saw me arrive. Some people were so mesmerized, they wanted to touch my arm to just be able to say that they actually touched a tourist. I bet that they would brag about that to all their friends because that was a big event for them. All of the ogling made me very uncomfortable and through my eyes, utterly bizarre. That experience I won't forget for years to come.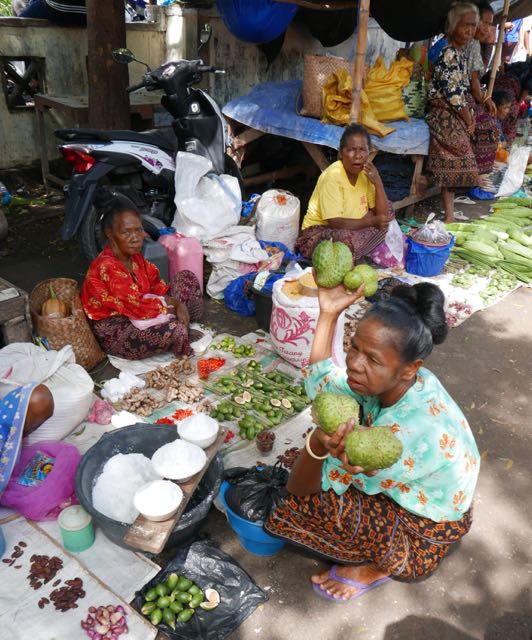 Passer toute la journée dans une voiture n'est pas exactement super excitant. Notre chauffeur Donatus était gentil mais il ne comprenait pas bien l'anglais et il disait tout le temps oui oui mais en fait il répondait à coté. Son anglais était quand même meilleur que notre indonésien. La campagne de Flores me rappelle un peu le Laos, les petits villages avec des huttes en bambous ou bois, les rizières, les vaches ou cochons au bord de la route, les stations services avec le pétrole dans les bouteilles de vodka. .Donatus nous a emmené au marché local de Geliting. L'île de Flores est à majorité chrétienne mais j'ai mis un sarong sur mes shorts en jean.  J'ai vu des cochons ou des chèvres transportaient sur des scooters, c'est une sacrée vision. Il y avait des légumes, des ikats (tissu tribal tissé à la main), la section poisson séché est inoubliable avec les odeurs que vous imaginez, des épices. C'est une île pas encore très touristique, j'avais l'impression que les gens du marché n'avait jamais vu d'étrangers (nous étions les seuls), ils me touchaient surtout les femmes avec Jayden nous étions des bêtes curieuses. Je n'étais pas à l'aise du tout, je ne pense pas oublier cette expérience de sitôt.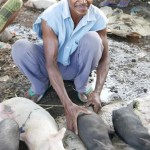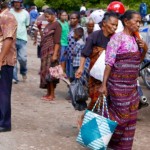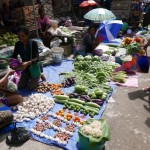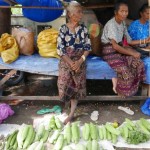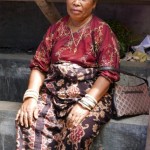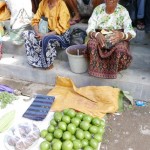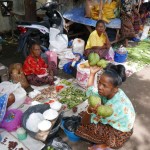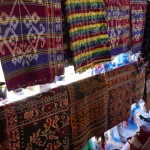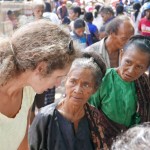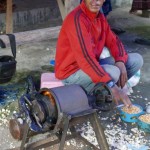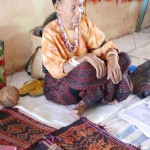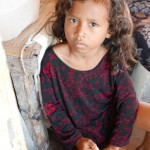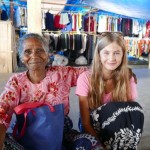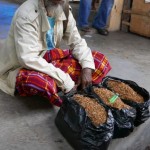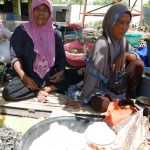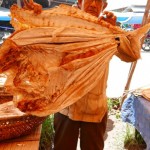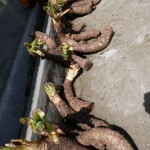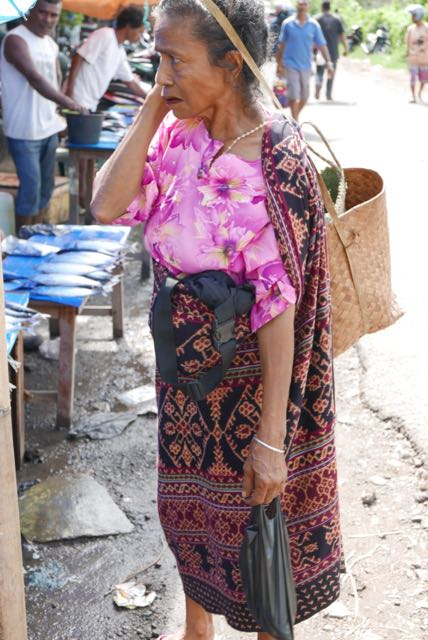 The road seemed never-ending. There are 12 volcanoes on this island. Every turn, every mountain, every rice terrace looked exactly the same. Worst of all, there was major road expenditure on the main route so we had to wait for an hour and a half just to cross a small section of terrain. In addition, the heavy rain in the mountains was causing landslides. I witnessed a minor one just as our car was passing by. It tore down 3 trees. But the much larger ones take down boulders 15ft in diameter. We were in Moni to climb Kelimutu volcano. Even if I wanted to sleep in, my parents wouldn't wait, neither would the sunrise. We had an early start after a late local dinner of banana blossom, fried chicken, aubergine coconut soup, and citronella rice. The hike to the top was surprisingly easy, only taking a half hour. Being too dark to see, I positioned myself at the base of the steps of a platform to save myself even more suffering from cold. Day break came around an hour or so later, the comforting warmth of the sun with it. Then was the time that I saw the three craters for the first time. They were deep and dark, like a bottomless watery abyss. I couldn't make out their usual "Blue Lagoon" color, the tops of the craters were shading them from the weak sunlight. You might ask, what am I talking about? Okay, we went to visit 1 volcano with 3 craters, all of them having different colored lakes; 1 turquoise blue, 1 blue, and 1 dark blue. The colors change yearly, due to the amount of oxygen there is in the water. The more there is, the lighter the color gets. Yet since the sun didn't shine directly on the lakes, we didn't see much colors except for the very end when the middle lake went from black, to dark green.

La route ici ne finit jamais, l'île est très montagneuse, elle compte 12 volcans, alors on monte et descend beaucoup. Il y a souvent des éboulis qui bloquent les routes pendant des heures ou bien simplement ils essayent de les réparer. Nous avons vu une petite coulée de boue juste quand on passait en voiture qui a quand même descendu 3 arbres! Les plus grosses ont laissé sur la route des rochers de 3m. Nous passons la nuit à Moni, toute petite ville, électricité pas tout le temps mais eau chaude. Nous sommes ici pour voir le lever du soleil sur le volcan Kelimitu. Après un repas excellent préparé par un chef local (soupe de christophines et d'aubergines, salade de fleur de banane, poulet roti avec des épices locales et riz à la citronnelle) nous nous sommes couchés pour le départ à 4h30 du mat. La montée n'était pas trop dure, nous sommes partis avec des lampes car il faisait noir encore, je n'avais pas très chaud car nous étions en altitude. Puis le soleil s'est lever et ses rayons m'ont tout de suite réchauffé. Ce volcan a 3 cratères avec des lacs de couleurs différentes. Avec le soleil, les 3 lacs se sont révélés. Un de couleur vert d'eau, un vert plus foncé et le dernier était encore avec du brouillard. Les couleurs changent du fait de l'oxygène dans l'air plus il y en a et plus les couleurs sont claires, c'est dû aux minéraux contenus dans les roches. C'était une bonne balade matinale.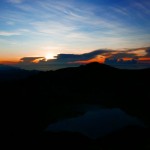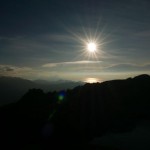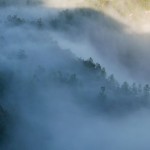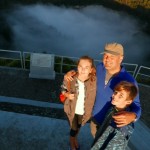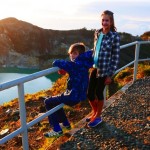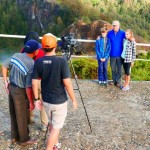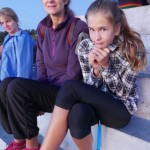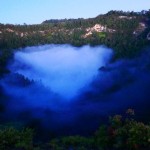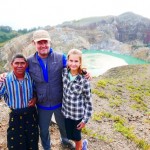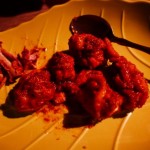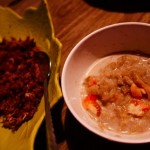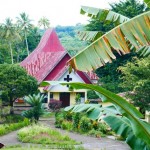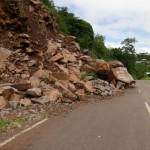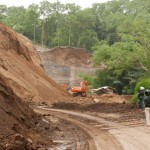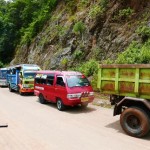 On the road again, seeing places where we've never been… That very same day, we drove for 7 hours to this "town" called Bajawa. Like all of the other towns that we'd seen and were yet to see, Bajawa was a dead town with barely anything to do. Our guest house the Happy Happy hotel was nicer than all of the others that we'd stayed in (on Flores) and it had some Wi-Fi.
Sur la route encore, il nous a fallu 7h pour rejoindre la ville de Bajawa. Les villes et villages que nous voyons ne sont pas très vivants et il semble qu'il pleut beaucoup dès que nous sommes en altitude surtout les après midi. Notre guesthouse s'appelle Happy Happy hotel, il était d'un meilleur niveau que tout le reste jusqu'à présent, eau chaude, très propre, électicité et WIFI une première sur Flores.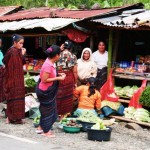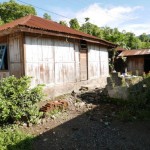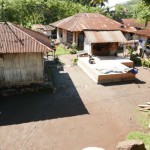 The following day we spent visiting some native authentic villages of Bena and Lupa. The house were made out of bamboo, from the woven walls to the shingles and wood with carvings. Exactly like in Laos, the women were selling weavings. Some were of more industrial type while other ones looked as if they had been hand-dyed. Other products that they sold were papayas, avocados, and "macadamia" nuts (note the quotation marks). We bought one of each, since we figured that the money would be of huge benefit to them. We also went to the other main attraction of Bajawa, thermal hot springs from the volcano. I would have thought that it would be touristy, but we were the only tourists there amongst hundreds of locals. There was no doubt about it, I stood out, and like a canary surrounded by a group of watchful cats, I felt trapped. The steaming clear water was of no help to conceal me. I didn't want to stay. And finally, for once, Mother Nature decided to help me by making it pour. After taking a welcome warm shower, I felt my stomach rumble. Remember those nuts I told you about? Well, I ate those. And got desperately sick. Big surprise, they weren't actually macadamia nuts but candle nuts which are toxic when eaten raw (which they were). That night I made a few trips to the bathroom, my dad was the most sick and my mom the least, luckily Jayden didn't eat any.

Le lendemain, Donatus nous a emené voir des villages de tribus comme Bena et Lupa. Ces villages sont très typiques avec leur propre croyance Mère et Père, ils vivent encore comme autrefois. Les femmes vendaient leur tissage et quelques fruits et légumes. Nous avons acheté quelques avocats, papaye et un petit sac de soit disant noix de Macadamia, c'est bon pour leur économie. Nous sommes allés un peu plus tard dans les sources thermales naturelles du volcan Inerie, comme nous étions dimanche il y avait beaucoup de locaux, de jeunes, en fait les filles nagent toutes habillées, je me suis trempée avec mon T shirt mais j'aurais bien voulu garder mon short. Ma mère n'a pas voulu car elle m'a dit qu'il ne sécherait jamais et sentirait le moisi comme nos serviettes de plages car le temps est trop humide. Heureusement il s'est mis à tomber des cordes et nous sommes rentrés. Vous rappelez vous des noix de Macadamia, nous en avons mangé un peu elles avaient un drôle de goût, mon père a dit qu'elles devaient être moisies. 20 minutes plus tard notre estomac nous faisait mal, mon père, ma mère et moi qui en avions mangé.  On a découvert plus tard que ce sont en fait des noix de bougies, qui sont toxiques quand elles sont mangées crues et elles ont un pouvoir laxatif. Mauvaise combination!!! J'ai vomi plusieurs fois et eu la diarrhée, mon père a été le plus malade. Pour nous soigner les hôtes de l'hotel nous ont donné un remède local, mâcher de l'écorce d'un arbre jusqu'à ce que le jus dans la bouche vous brûle au moins 10 minutes, franchement dégeulasse, par contre je dois dire que c'était très efficace. Jayden lui a eu de la chance de ne pas être malade comme il n'en avait pas mangé.