After leaving the calm and tranquil Tuscan country side, Rome came as a bit of a shock. My first thought when we arrived was; "My parents are yelling at each other like Romans, we must be lost, again". My second thought was; "AHHHHHH, THESE ROMANS ARE CRAZY DRIVERS, I'M GOING TO DIE TODAY!" but it turns out I didn't, thankfully. There were cars parked in front of others and half on the sidewalks. That part freaked me out. Thankfully we got really lucky and saw a car leaving its parking space near our apartment. Speaking of which, the apartment was really nice. It was spacious, with tall ceilings and relatively open layout. Plus, my brother and I had an actual bedroom this time! J .
Nous avons quitter la charmante Toscane pour la bruyante et folle Rome. L'entrée dans Rome en voiture est quelque chose que je n'oublierais pas de sitôt. Mes parents se criant dessus car rien n'est indiqué pour savoir ou on va. Des chauffeurs qui coupent la route, des gens garaient de partout en double file!!!! Après avoir un peu tourné en rond, nous sommes arrivés à garer la voiture pas trop loin de notre destination. L'apart était vraiment bien, large et spacieux avec de hauts plafonds. Mon frère et moi avions notre propre chambre, un plus appréciable .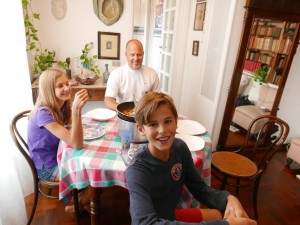 Almost immediately after dropping off our bags, we started wondering around. Finally, we found the metro station and we went to the Coliseum. It had a grand stature, which you don't realize in the pictures. It was 50 meters tall, with 80 arches, and could seat 70,000 people. This immense amphitheater in the middle of Rome was like a giant bee hive, with swarms of tourists buzzing around it. It looked exactly as it did in the pictures. I had to take some pictures of it, I mean, how often do you get to see the Coliseum?
Nous sommes partis exploré la ville, premier stop de métro le colisée. C'est un édifice beaucoup plus impressionnant que prévu carpes photos ne lui rende pas justice. Il fait 50 m de haut, il y a 80 arches et pouvait contenir 70000 personnes. Ce soir il ressemblait plus à une ruche avec tous les touristes agglutinés autour. J'ai pris quelques photos, ce n'est pas tous les jours que je me balade autour de ce genre de monument.
After we got a good look at it and a few pictures, we decided to walk home, instead of taking the metro. It took us almost 40 minutes to walk across most of Rome, but we were exhausted and stopped at a pizzeria close to the apartment. The next day we got up and early to walk some more. We went to the Piazza Navona which had a big fountain and lots of artists. We visited the most well preserved Roman structure, the Pantheon. It is in the shape of a rotunda and has a domed ceiling with a central opening to the sky.
Nous sommes rentrés à pieds, il nous a fallu 40 minutes pour traverser presque tout Rome. Pour se remettre de notre fatigue, nous avons mangé à une pizzeria pas loin de l'apart. Le lendemain, nous avons visité piazza Navona, et le Panthéon un monument romain très bien préservé de forme ronde avec un oeil de verre au centre.
Back to the restaurant, it was horrible. They served us rotten salad and tomatoes, and the service was extremely slow. We definitely won't be eating there again. That night, we went to the Vatican Museum. It was beautiful. There was an Egyptian room with sarcophagi and a very well preserved mummy. Then there were all kinds of statues and paintings. Some of these artists were Michaelangelo and Rafael. There was a whole hallway with 40 maps of Italy painted on the walls painted by Danti. It was all so stunning. We had to pay $74 for the 4 of us to get in, but we got an additional free sauna as a bonus. It was so hot and stuffy in there, it was horrible. I was relieved when we came back into our air-conditioned apartment!
Nous avons manger dans un resto assez horrible, ils nous ont servi des salades avec des feuilles pourries! Ma mère était folle, elle a tout renvoyé. Le reste était ok, mais nous n'y retournerons plus. Dans la soirée, nous avons visité les musées du Vatican. Je dois dire que  j'ai été émerveillée par tant de beauté. Ils ont une section égyptienne avec des sarcophages magnifiques et aussi une momie très bien préservée. Des salles avec des statues, des peintures, des tapisseries, qui n'est finissaient plus. J'ai découvert la micro mosaïque. Les artistes sont entre autres Rafael, Danti (la salle des 40 cartes d'Italie) et bien sûr Michaelangelo et ses peintures dans la chapelle sistine. Nous avons payé 74 euros pour la visite, il y avait un bonus, sauna gratuit!!! Il faisait tellement chaud, c'était étouffant.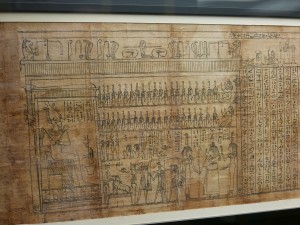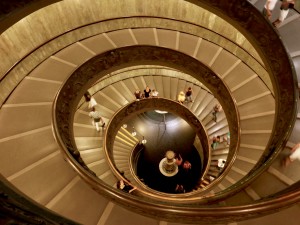 We visited St. Peter's Basilica in the Vatican a day later and I couldn't believe what I saw. The sheer size of it was overwhelming. But it was beautiful and majestic. The ceilings were ornately carved with gold finishing's. The columns were all made out of different colored marble. There were other smaller sections on the sides with domed ceilings with frescoes and statues. Within the St. Peter's, there were other smaller chapels where people go to pray. It is the largest Basilica in the world, now I understand why.
Nous avons visité la basilique Saint Pierre, le jour suivant. La structure était  tout simplement gigantesque, mais très belle avec des plafonds sculptés recouverts de dorures, le tout soutenu par des colonnes de marbres de différentes couleurs. Il y avait aussi de plus petites chapelles dans des alcoves. Je venais de visiter la plus grande basilique au monde, je comprends mieux pourquoi maintenant!
After that fine visit, we decided to get gelato. There was a place near the apartment that was supposed to be delicioso. And it turned out to be just that. I got the flavors Nutella and Bartoccioso, which is a mix of chocolate and vanilla gelato with cookie chunks in it. I think that that was the best gelato I've had on this trip so far!
Pour ce remettre de cette visite, rien de mieux qu'une gelato! L'apart est près d'un des meilleurs glaciers de Rome, un vrai régal, j'ai choisi Nutella et Bartoccioso (mélange de chocolat, vanille avec des morceaux de gâteaux). Ca vaut le détour. 
Rome was interesting to explore and I found that there were many churches, fountains, and obeliscs, every corner it seemed you would find one of those. It reminded me of New York, in terms of the noise, but otherwise I can't compare Rome to any other cities. Tomorrow we will go to Naples and eat their so-called world famous pizzas.
Pour moi, Rome est la ville de fontaines, d'obélisques et d'églises, il y en a à tous les coins de rues. C'est une ville bruyante un peu comme New York, mais elle est unique. Demain direction Naples où parait-ton ils font les meilleures pizzas du monde.